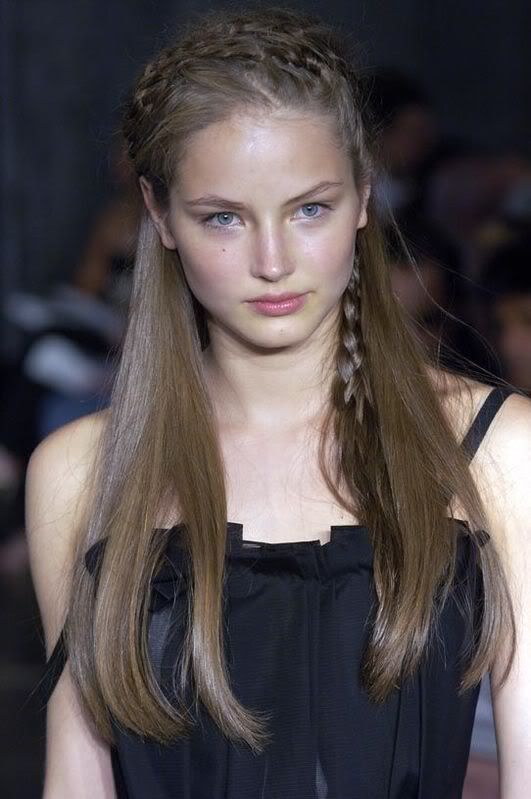 20-year-old model Ruslana Korshunova apparently committed suicide yesterday afternoon. The IMG model leaped from the window of her 9th floor one bedroom apartment in New York's Financial District around 2:30 PM.  She was just three days short of her 21st birthday.
 According to police there were no signs of a struggle leading to the suicide conclusion despite the fact that she always appeared cheerful to those around her. According to the
NY Post
friends say that there were no signs of her depression and that she was very happy modeling and living in New York. But other media sources,
including The Fashion Spot
, are claiming that she posted suspicious and seemingly depressed messages on her myspace. 
Korshunova appeared on the covers of French Elle and Russian Vogue as well as ads for Christian Dior, DKNY, Nina Ricci and Vera Wang. She had successful runs at both NY and London fashion weeks walking in shows for Libertine, Jill Stuart, Rosa Cha, Betsy Johnson and Lela Rose.  But she was most famous for her Rapunzel long hair and her Nina Ricci contract.
She began modeling professionally at age 15 when her photograph was spotted in All Asia magazine by Debbie Jones at Models 1 and has lived abroad and been a working model, sending money home to her family, ever since. Ruslana was born in Kazakh (it was then part of the Soviet Union) on July 2nd, 1988 in  and eventually spoke Russian, German and English fluently.
I think this is a haunting and unfortunate reminder that models, no matter how beautiful or successful or seemingly glamorous, can have a difficult time just like anyone else. This was, after all, a woman who had essentially left her family and home as a child to live in a foreign country, constantly be on the road between multiple countries, working in a high pressure, demanding industry entirely by herself. It's one of the most isolating and lonely careers in the world and, for the most part, it's a career chosen by teenage girls. They travel alone, eat alone, sleep alone, etc. It's sad. And it makes sense that a maybe heartbroken and/or exhausted girl could lose sight of things in that. I'm just devastated that she chose to take her own life.
My most sincere prayers are with her, her family, and her friends. 
Ruslana Korshunova, July 2nd 1987-June 28th 2008
https://w.atcontent.com/-/1ufhXBpKNRi/TheBostonista/7EKACPvceMg.text/Panel/Autocheck