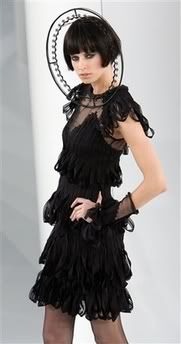 Couture week always makes me a bit giddy. 
Right now I'm pouring over pictures from this morning's Chanel Haute Couture Fall/Winter 08-09 collection. 
From the Gotham City homage set to the almost architectural structure of the dresses Karl seemed to have been inspired by an industrial muse. It's a beautiful collection where even the most futuristic and innovated piece felt feminine and still a classic Chanel collection
.
This collection is certainly more focused on the art of design and innovations in proportions, shapes, and use of fabrics than it is about being wearable. The last few Chanel Couture shows have been beautiful and amazing but they often seemed like Ready-To-Wear collections with a few Couture pieces. This felt more like an actual couture show. But it's the attention to detail; the absolute perfection of the construction that made this collection fascinating. The head pieces framing some of the models faces as portraits and works of art was a truly genius step. It was the perfect encapsulation of fashion as art. 
So what
didn't
I like? The Anna Wintour bob wigs! Karl's used them for what? Three Chanel collections? Not to mention at least a season at Karl Largerfeld Collection! Is he aiming for a Vogue cover or something?
Sorry for the lack of updates the past few days! Now that it's Couture Week I'll try to be updating a few times a day but I can't promise anything!
https://w.atcontent.com/-/6evHjABRKSB/TheBostonista/2L97UJGmNID.text/Panel/Autocheck