This past weekend, I had the opportunity to staycation at Aloft Boston Seaport. Since I rarely venture over to the Seaport District, my staycation actually felt a bit like a mini-getaway…without any travel time!
If you're new to Boston, you may not know that until fairly recently the Seaport was a bit of an under-utilized spot. It had the federal courthouse, Anthony's Pier 4, and the World Trade Center. Otherwise, in my memory anyway, it was basically a stinky, fishing hub filling the gap between downtown and Southie.
Flash forward 15 years and it's a booming neighborhood of sleek high-rises, multi-million dollar condos, tech companies, scattered green spaces, and lots of amazing places to eat.
With the weather FINALLY consistently nice, it felt like a good time to get re-acquainted with the area. I'd heard that Aloft Boston Seaport has a killer view and fun bar, so I was excited to check-in for two nights!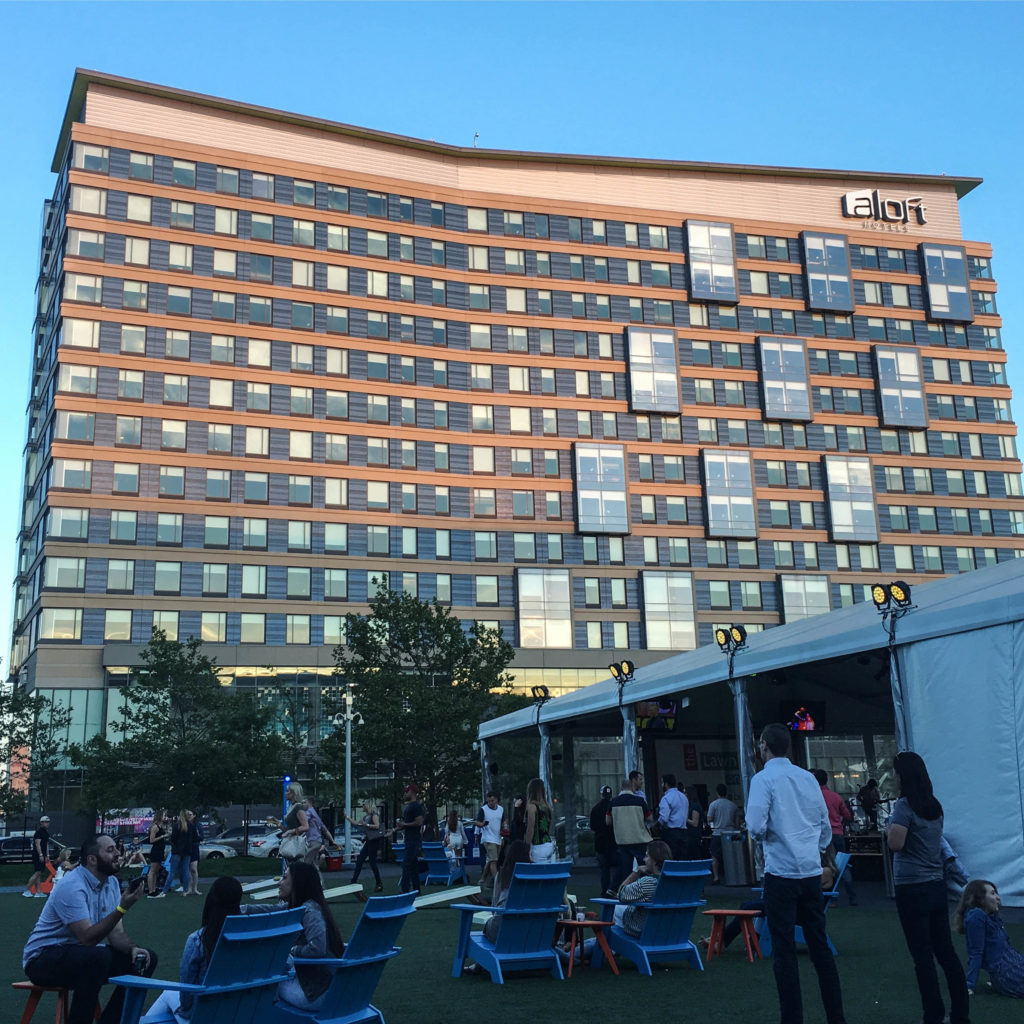 I arrived around 6 pm on Thursday night, giving me just enough time to check in and get settled (and check out that stunning view) before Live at Aloft started at 8.
Aloft hotels across the country host live music from up and coming artists weekly. In Boston, it's every Thursday night until 11 pm at the WXYZ Bar. The night I was there, Toft Willingham was doing an acoustic set and the bar was packed with guests and locals alike. WXYZ is in the lobby but it has a real neighborhood vibe with a free pool table, reasonably-priced cocktails, and lots of comfortable places to sit and chat. In the warm weather, you can even enjoy your drinks out on the patio.
There aren't a lot of nightlife options on this portion of D Street other than Lawn on D (which is only open during the summer season) so it's smart of Aloft to position itself as such a fun, local hangout. While I was there, I perused the bar menu and got a super yummy margarita pizza. I don't drink but the cocktails sound really good and the beer and wine list is surprisingly extensive. After Toft finished his set, I made my way upstairs and jumped into the king-sized bed. Fast asleep in 30 seconds flat.
The next morning, I used the single serve Mr. Coffee and was surprised how delicious the coffee pod ended up being! I obviously brought the coffee back to bed and enjoyed The Today Show for a few minutes while I planned out my day.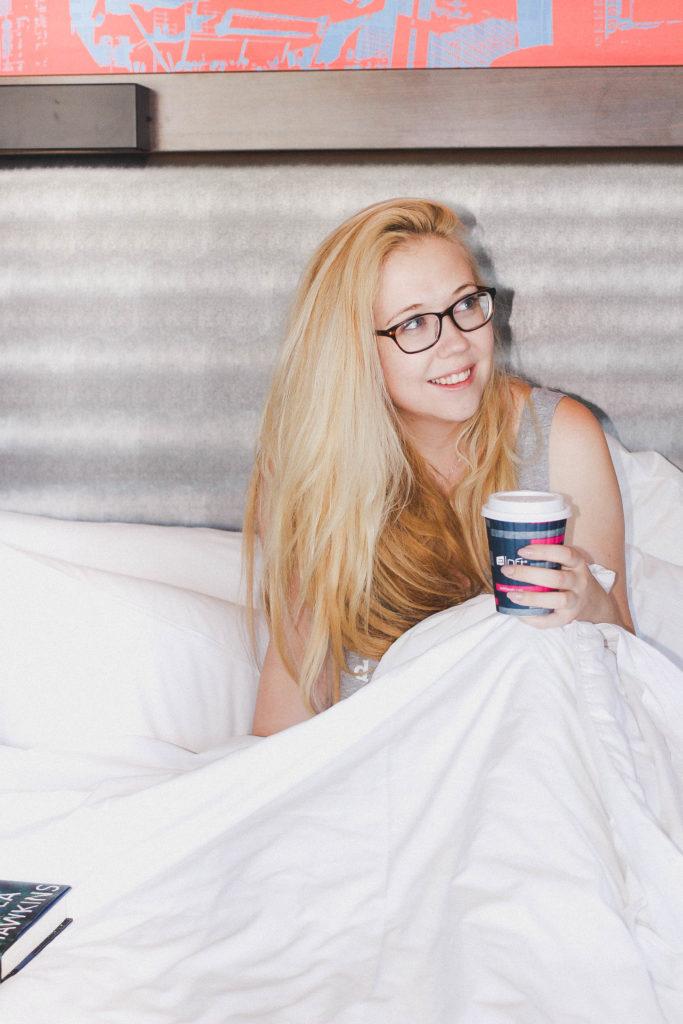 I had to jump into the spa-like shower. I love when hotels have spacious showers with glass doors and tile rather than one of those awful plastic all-in-ones, don't you? All of the provided products are from Bliss Spa so they smell amazing and won't break you out or do anything crazy to your hair. Also, rather than waste plastic on all those tiny bottles, the showers have large dispensers on the wall that are re-filled as needed. I ended up spending more time than usual in the shower because it really does feel like a spa!
Then I was off! I grabbed a muffin from the re:Fuel station downstairs and started walking!
Places to Check Out In The Seaport:
By Chloe, 107 Seaport Blvd: This New York chain decided to expand into Boston and I couldn't be happier! I know what you're thinking, a VEGAN chain? Trust me, it's delicious and it's the cutest spot! Succulents, swinging rattan chairs, floor to ceiling windows. It's selfie-heaven. But everything on the menu is so good, you might forget that it's healthy. I have a lot of menu recommendations (they also recently opened in Fenway) including Southwestern Quinoa, The Guac " Burger" (it's a black bean- quinoa- sweet potato patty and it's delicious), Raw Vanilla Bean Chia Pudding, The Smoothie Bowl, and their "ice cream" called Chill. I don't know what's in it exactly (it's 100% plant based and kosher) but the coffee flavor rivals any traditional bowl, although I will say that the texture reminds me more of a hard yogurt
Institute of Contemporary Art, 25 Harbor Shore Dr: Opened in 2006, the ICA basically started the glass and concrete trend in the neighborhood. Since then, massive buildings have gone up around it and unfortunately blocks the view of the museum. It's a shame because it's a really cool building, designed by Diller Scofidio + Renfro. They have a lot of programs that make art more accessible to the public (for example, admission is free every Thursday night after 5) and cool exhibits. I checked out the Nari Ward: Sun Splashed exhibit. Ward uses found pieces like shoe laces, and shopping carts, and even a fire escape. I wish I could explain it better but you really should just go see it for yourself.
The Lawn on D, 420 D St: Every Boston millennial's favorite summer spot. Free to enter, has a bar, live music, and swings that light up at night but it's also a popular spot for families during the day. Plus, it's across the street from Aloft!
The Barking Crab, 88 Sleeper St: You're in Boston. At the Seaport. Obviously, you want seafood! The Barking Crab is basically a Boston institution. Situated OVER the water, with water taxis pulling up, and smack dab in the middle of the city. It's pretty cool. On hot summer days, sit in the tent and order the fire-grilled lobster.
The Boston Harbor Walk: For a peaceful stroll, head up the Harbor Walk entrance by the Barking Crab and follow it along the harbor up to the ICA. Lots of green space, meandering gardens, and city/water views. I sat with an iced coffee for a while. It kind of renewed my appreciation for my hometown. It's just a very calm, beautiful spot.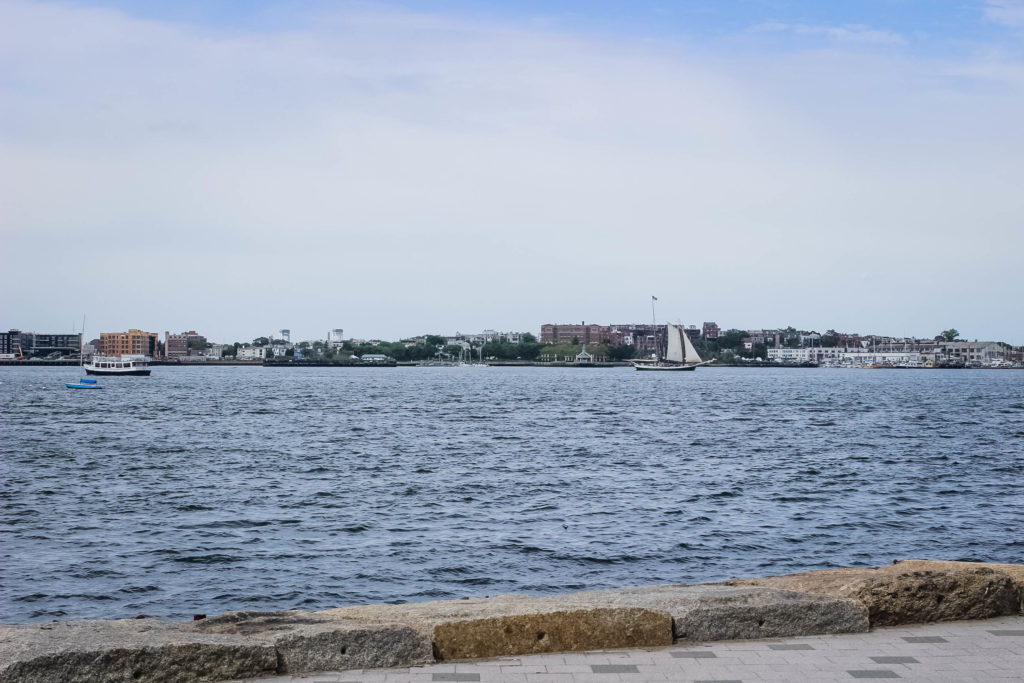 When I got back to Aloft, I, unfortunately, had some work to do. Luckily, the free wifi is surprisingly fast and I ended up finishing my project faster than I expected. So fast, that I was able to sit and take in the extraordinary sunset from my room.
One of the unexpected perks to staying at the Aloft Boston Seaport? The indoor swimming pool! Since a lot of their guests are in town for business, it was pretty empty on a Friday night.  I spent the night floating around and reading Vogue by the pool.
The re:Fuel station offers hot breakfast every day from 6-10AM (11 AM on Saturday and Sunday) with FREE COFFEE. That's right. FREE. COFFEE. So, obviously, I headed down there in time for waffles, free coffee, and another muffin. What can I say? I like carbs in the morning.
I took another dip in the pool after breakfast to finish off my staycation. Perfection. Did I mention that checkout isn't until Noon? I feel like most places have Noon as their late checkout but I was able to get a late checkout of 2pm! Excellent.
Things To Know: I had a great time at Aloft Boston Seaport but there are some things to keep in mind when booking.
If you're a New England resident in need of a staycation, Aloft offers a Resident Rate via the Starwood Hotels booking page or mention code ResFlt.
Lawn on D is literally across the street. I'm talking, maybe, 100 feet away. If you're someone who likes to go to bed early, you may want to ask for a room on the other side of the hotel. You'll lose the city view, but from May-Octoberish there is live music every night until about 10:30. Even up on the 12th floor, it was pretty loud.
The guest rooms are comfy but cozy. My king bed took up much of the room and there is minimal drawer/closet space. In fact, the closet is kind of built into the back of the bed. I thought it was a cool way of maximizing a small space but if you don't travel light you may find it tight.
Finally, Aloft Boston Seaport is dog-friendly! Daisy was so happy about this that she came to pick me up! Ask about their Aarf Program so your furry friend can have a bed, bowl, treats, and toys upon check-in! I saw quite a few guests with dogs in the lobby so if you're not a dog person…well, what's wrong with you? Just kidding.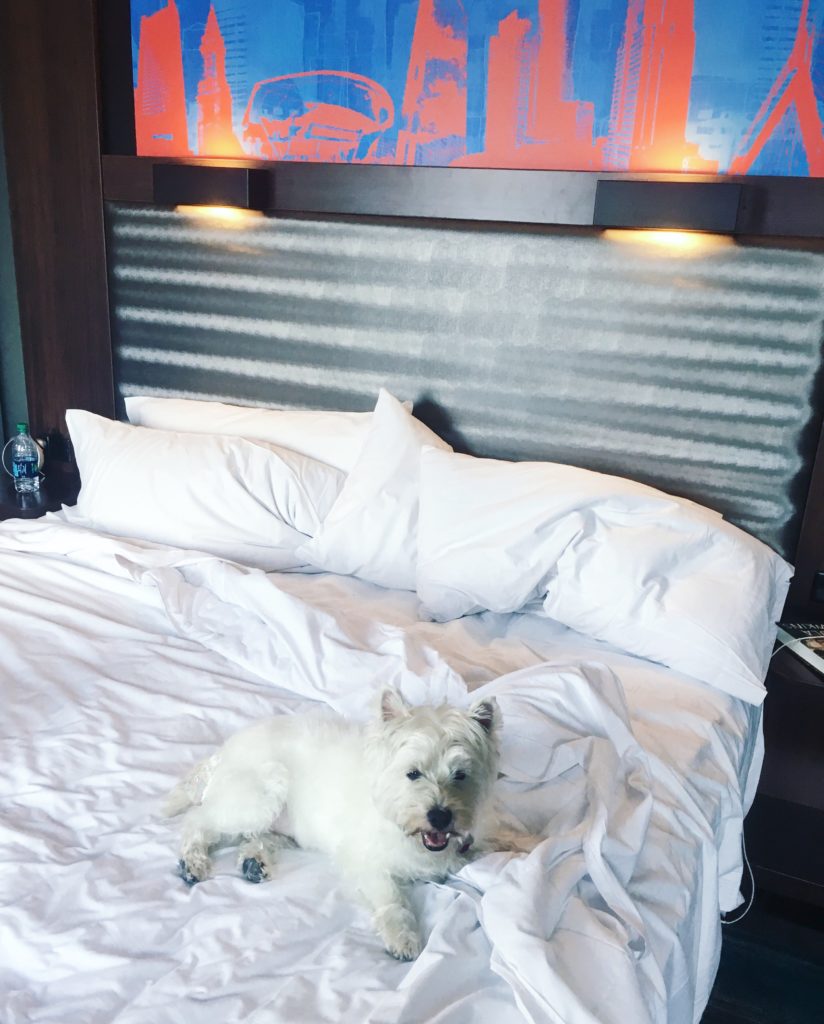 Are you ready for a staycation at the Aloft Boston Seaport?
Disclosure: I was provided with two nights at Aloft Boston Seaport in exchange for an honest review and sponsored social media coverage. However, this did not influence my review in any way and all opinions are my own.