This year, I'm lucky enough to have four days in Aruba for my birthday and it's completely magical, thanks in no small part to the Aruba Marriott Resort & Stellaris Casino!
Last year,  the Marriott team visited Boston and I enjoyed an evening of traditional Aruban food with their chefs. After learning how to make ceviche, they asked if I'd like to have some on the beach! How could I say no? I've never traveled solo before; it honestly never even occurred to me to try! But I've been trying to push myself out of my comfort zone more this year, so I thought a solo trip might be the perfect way to celebrate turning 32.
I'm not the best flier, but luckily JetBlue has a direct flight to and from Boston so that makes things easier. Boarding the plane, the lead flight attendant greets other fliers by name on the way down. Seriously, there are people who travel to Aruba so often that the flight attendant knows them personally! It makes me even more excited to experience this Caribbean island.
Day 1:
Landing at 1:00 pm means all afternoon to get settled and explore! Before leaving, I arranged for a shuttle to and from the airport and opted not to get a rental car. Taxis on Aruba have set prices and many of the things I want to see are within walking distance so I felt renting a car wasn't necessary.
The famous Aruban hospitality is evident immediately. Everyone is so friendly! Walking into the modern, grand lobby instantly sets the vacation mood! Complimentary tropical juice, succulents, colorful decor, all come together and lead eyes right out to the pool.
Check in is a breeze (with free wifi for my stay thanks to my Marriott Rewards membership) and as the bellman opens the door to my 7th-floor room, I literally gasp! The wall-length window to my balcony gives a direct view of the turquoise ocean and the room itself is bigger than my entire apartment. Plus, is there anything better than a king bed all to yourself? No. There isn't.
Plans for the afternoon include lunch, exploration, and the pool. I meander down to the beach, past the hotel's palapas and find an empty chaise lounge by the water. A waiter from Waves, the beachside bar at Aruba Marriott Resort, takes my order for a light lunch and I munch and swim and enjoy the sunshine for a couple of hours. I know that I'll spend the next day on the beach and need to secure a palapa because my Irish skin can't handle too much sun.  In case you don't know, a palapa is an open air, thatched roof hut. At the Marriott, they're almost like giant, tropical umbrellas with a small ledge around the base to use as a table.
TripAdvisor says that hotel guests can reserve palapas in advance for $30 a day, or try their luck at a lottery every morning around 6 AM and every evening at 4. I have a game plan and at 3:45 I find my way to the towel hut. A line has formed. You'll see thirteen chairs set up in a line (I'm  chair 11) and the thirteen people sitting there at 4 secure a free palapa for the next day. It's a gamble but if you're on a budget (like me) and don't mind being patient, it's a perfect deal.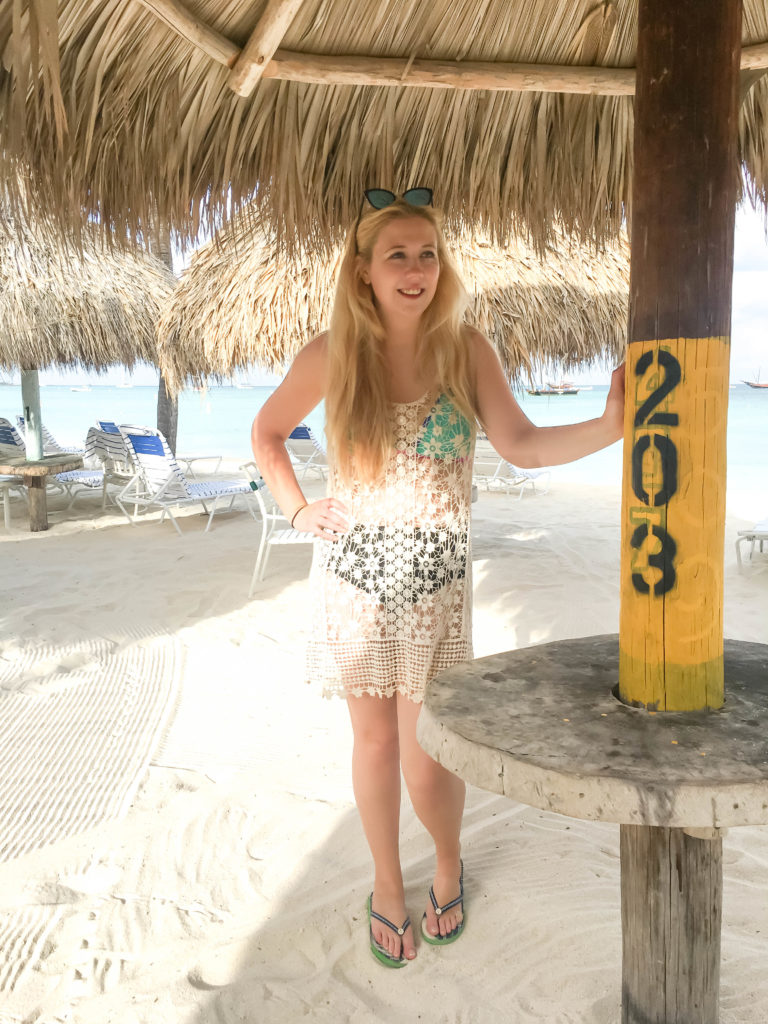 After that, I check out the main pool. It's big, with a waterfall and swim-up bar. There are tons of lounge chairs, umbrellas, and perfect spots. People have definitely camped out for the day though, so I decide to find the adults-only pool.
Located on the other side of the hotel, H2OASIS is a gated sanctuary (you need your room key to access) with oversized couches next to the pool, private cabanas, and it's own bar. As a solo traveler, I decide it's heaven; No splashing kids! I hang out here until well after sunset, chatting with other guests and the hotel staff. A virgin pina colada or two is ordered.  Funnily enough, a couple thinks I'm under 21 and want me to leave! I just laugh and say, "It's my 32nd birthday! THANK YOU!"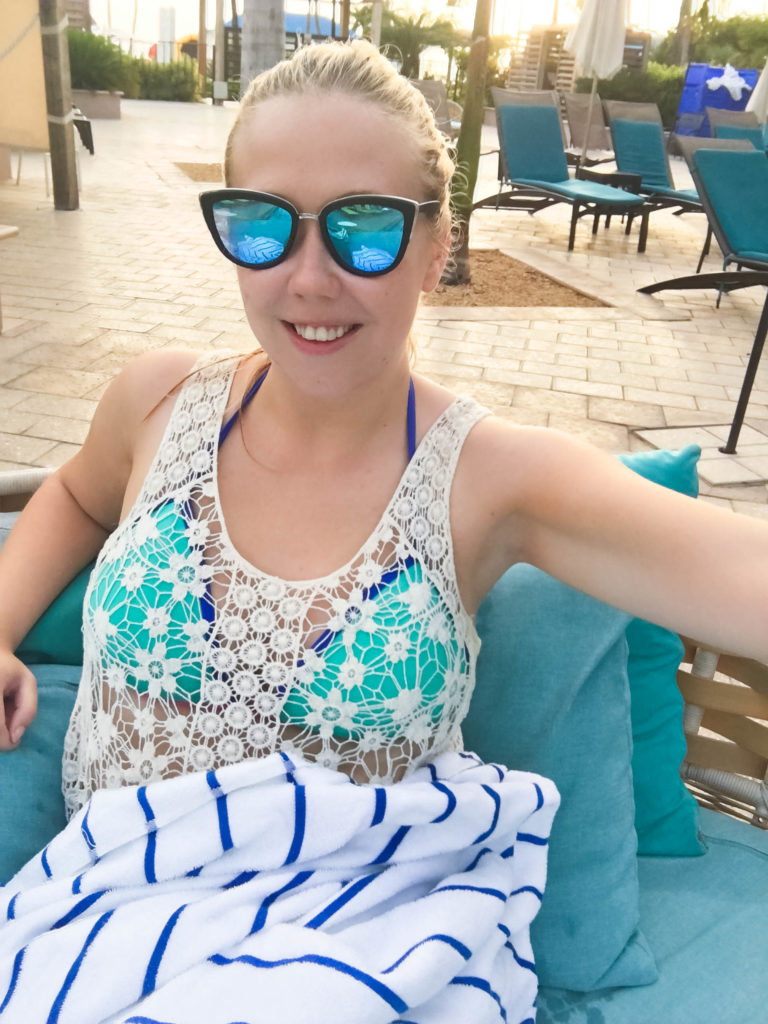 Getting back to the room, I realize that my bathroom has TWO showers. A beautiful, tiled walk-in that looks like it could be on Flip or Flop, and a shower head in the oversized tub! I finally unpack and get settled in the room (I didn't want to waste any of the afternoon sunlight) before realizing that it's nearly 10 and I haven't had dinner. Gotta love room service!
Day 2 in Aruba:
For my second day in Aruba, I wake up early. Since I only have a few days, I don't want to waste too much of it sleeping. Although the king bed is so comfy, I have to really push myself. Isn't my life so hard? Just kidding.
The hotel has a breakfast buffet at La Vista but I never eat enough in the morning to justify it. Instead, I get my coffee fix at the Starbucks in the lobby and head out to the towel hut to claim my palapa! The beach service is incredible, I sign in and they show me to my space while setting up my lounge chair for me and bringing towels.
I'm pretty close to the water and, even though all the beaches in Aruba are public, I feel confident leaving my beach bag hanging in the hut while I go for a swim. Aruba is known for always being sunny (it's outside the hurricane belt) and comfortable. It's hot but the humidity is low and there is a near constant breeze. Seriously, I have to anchor napkins and things down so they won't blow away! But it means the sun never feels too hot and it's pleasantly cool under the shade of a palapa.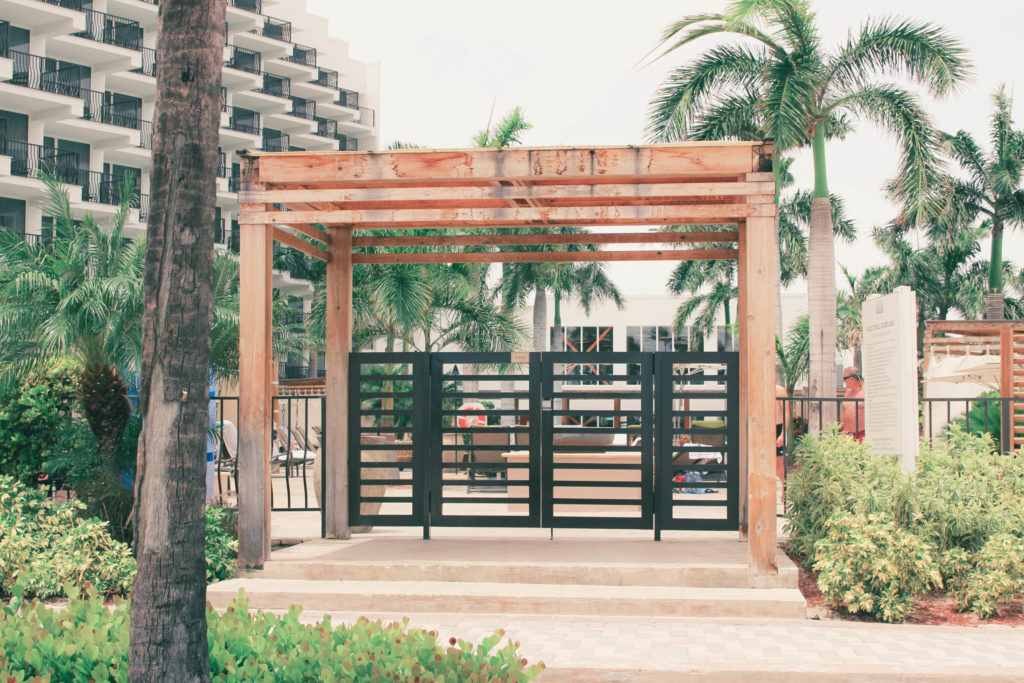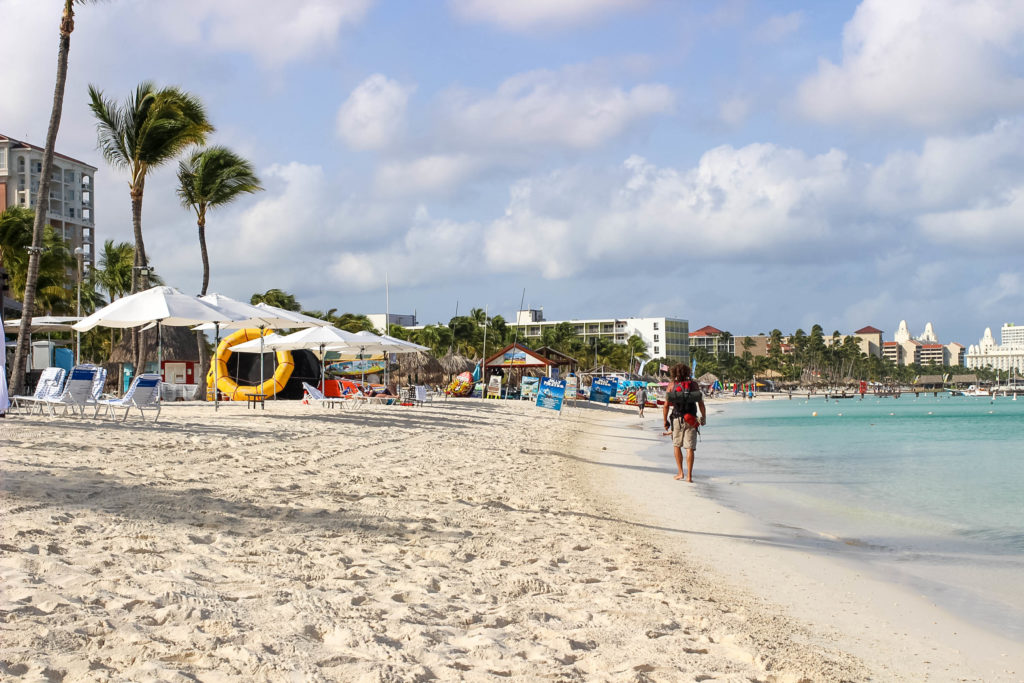 One of the places that I KNOW I have to visit is Eduardo's Beach Shack! It's just up the beach from the Marriott. Walking the beach here is a super fun experience. There are vendors and bars and places to rent floats and paddle boards all right by the water. Everyone is smiling, music is playing, and it's impossible not to be happy!
But back to Eduardo's! They are famous for their smoothies and making these acai protein bowls in half pineapples and hollow coconuts. Everything on the menu is vegan but it's all so delicious you won't even realize it. I order an acai protein bowl in a coconut (they are sold out of pineapple bowls for the day, unfortunately) with coco-whip and all kinds of fresh, colorful fruit. IT'S AMAZING. The portion is bigger than I expected, and there is some granola in it so it's very filling. I grab a couple of their protein balls to snack on later. Everyone talks about how good it is and how you have to go, and I'm here to second that!
Now it's back to my palapa to enjoy the rest of the day in the sunshine! I intend to explore more of Orjenstaad (and, you know, do some shopping….) but I just can't tear myself away from the beach. I've never been to the Caribbean before and the turquoise water is just too irresistible.
Being on my own, I'm worried about missing a spot with sunscreen but the resort has the coolest machine on the beach. It's an open booth, with a platform that slowly rotates and sprays you with sunscreen.  It's about $2 and worth it for a solo traveler like me.
I'm walking the beach and enjoying the sunshine until late afternoon. I only have dinner reservations for the next night, so I have to figure out where to eat. But beach life is exhausting, am I right, so it's time for a nap in my beautiful room.
Again, the service at the resort is incredible. Housekeeping has been here to replenish towels, make the bed, all the usual and my makeup is perfectly lined up and organized on the vanity in my bathroom! I'm such a mess in the morning and I can't believe that they took the time to do this! It makes getting ready for dinner so much easier.
My plan is to explore the island and find a really fun place in Orjenstaad like Screaming Eagle or Papiamento but I find a cute rooftop pub, Nos Clubhaus, and make friends with some Dutch travelers. It's a great night. I order the fish and chips  and enjoy the views of the ocean and beach at night. I walk the beach to MooMba Beach Bar for a drink.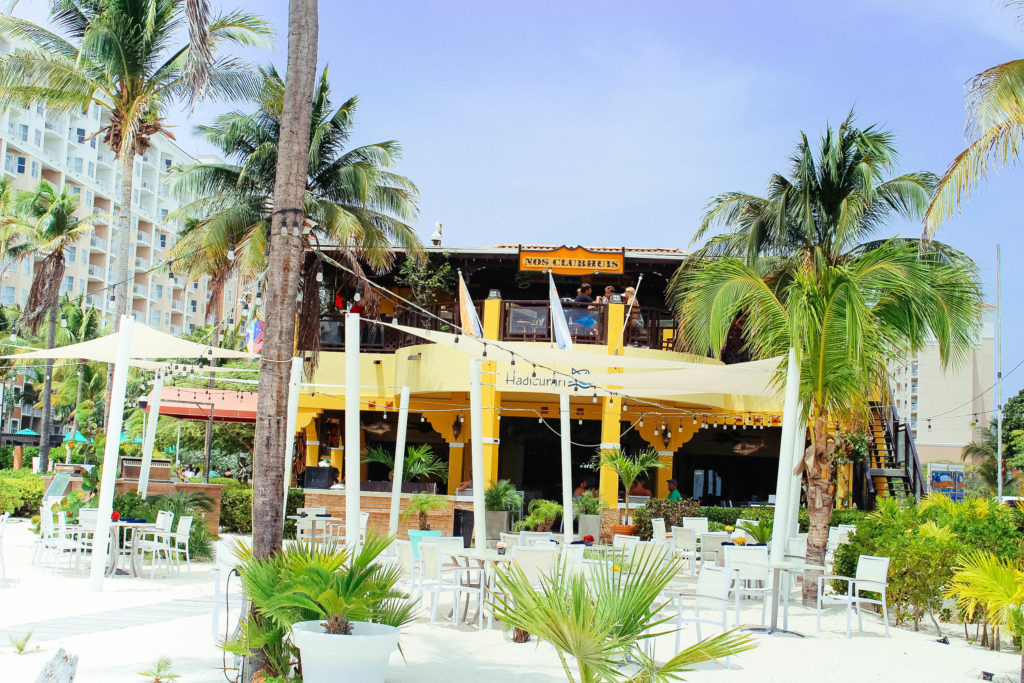 Back at the hotel, I try my luck at the Stellaris Casino. Casinos are a big draw in Aruba and the Stellaris is one of the biggest. It has some tables and a lot of slot machines. I'm not a big gambler and get bored pretty quickly but if you like the thrill, you'll love Stellaris.
Aruba day 3:
It's my actual birthday! I'm 32! I'm so excited because today I'm going on an off-road tour! Aruba's Arikok National Park actually takes up about 18% of the island. It's a beautiful, desert-like landscape with rocky peaks, cactus, and lava and limestone formations.  I'm looking forward to exploring. De Palm Tours pick up at 8 AM so I throw my bathing suit, jeans, and Keds on and hurry downstairs. I considered doing one of their ATV Tours but because the terrain is actually treacherous in spots, I decide the off-road jeep tour is a better idea for me.
For the next four and a half hours, I'm exploring, climbing, swimming, and holding on for dear life. It's genuinely the most fun I've ever had. I'm most excited about visiting the Natural Pool. It's a journey on foot down the cliffs, and over smooth black lava rocks into a gorgeous hidden cove.  At first, I'm disappointed. Did I climb all this way down to see an inch of water? But this is just the beach. Another slow climb between towering lava rocks and the natural pool appears. As the tour guides help guests in front of me get their bearings and literally slide down a rock into the pool, I start to panic. It looks deep and really cold, and Jesus that is the biggest crab I've ever seen in my entire life. There's no room to turn around and a line of people balancing on the rocks behind me.  It's time to sink or swim. I know it sounds small but choosing to slide down that rock into the pool feels like a big moment for me. I panicked and I'm fine. And I'm so happy I did because I'm bobbing around in the natural pool, with exotic creatures (like puffer fish) swimming around, and the waves from the ocean crashing above me. It's exhilarating. I ask someone to take a picture with their waterproof camera because I feel like no one will believe I actually did this. This is by far my favorite hour in Aruba.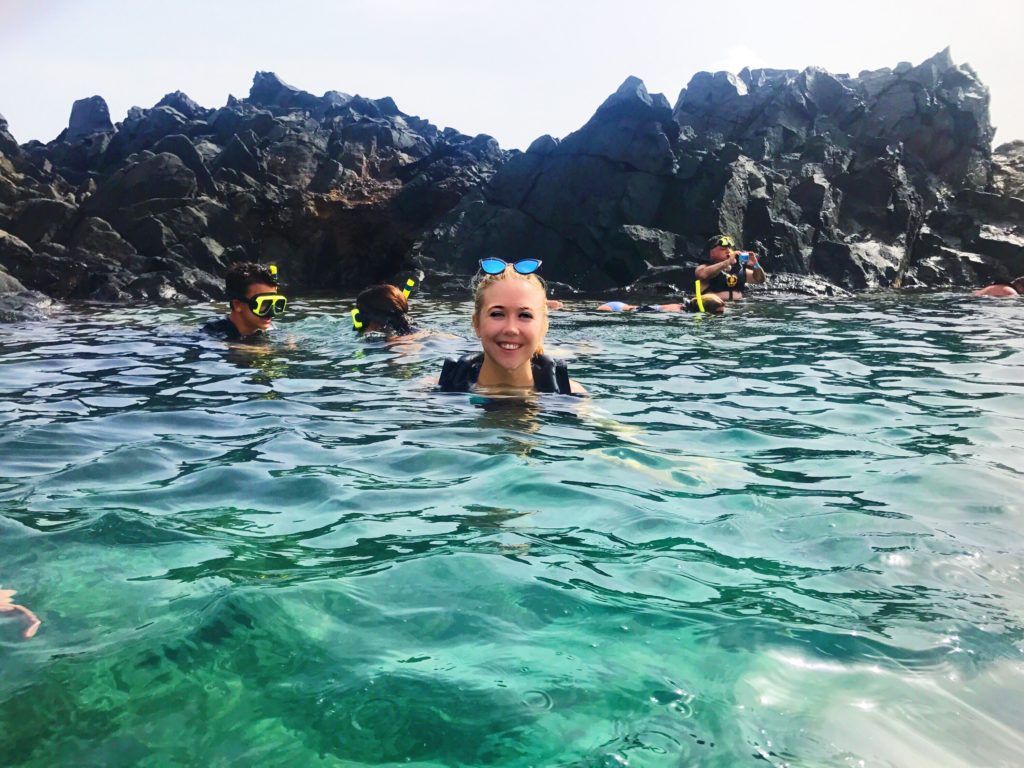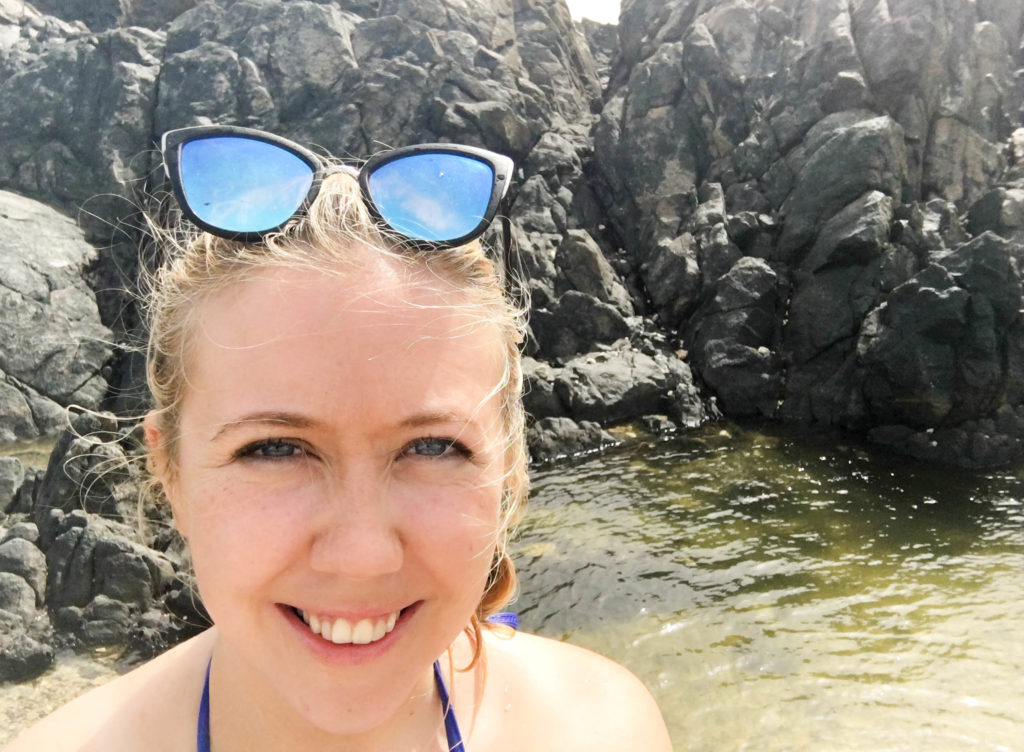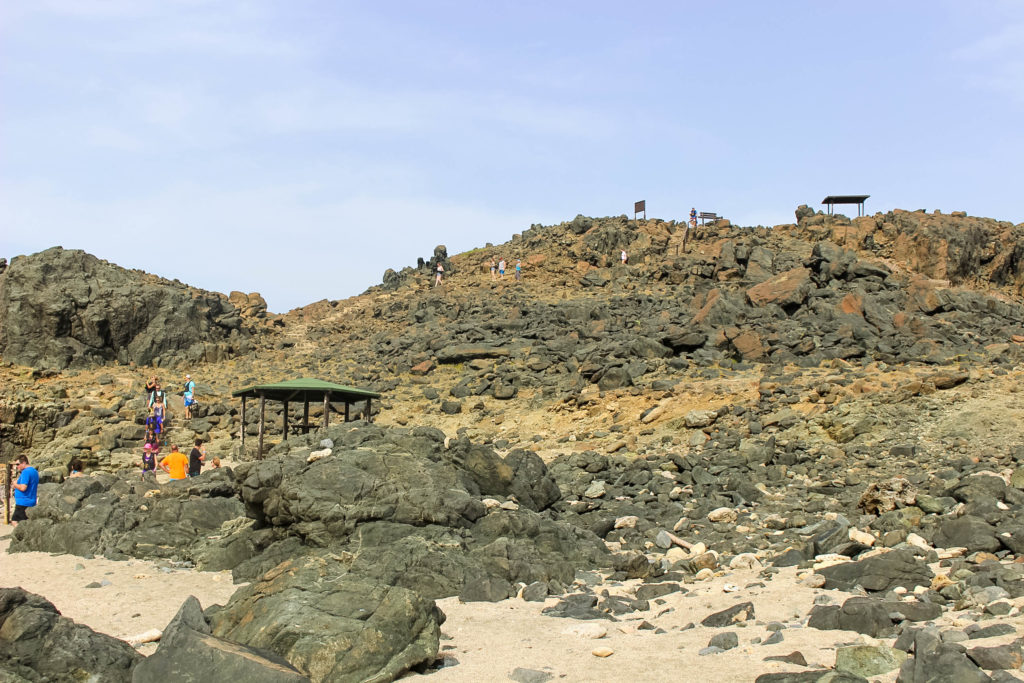 We visit what remains of the Natural Bridge, the Alto Vista Chapel, gold mine ruins, and the California lighthouse. I like listening to our tour guide and that he shows us spots that have been devastated by climate change just in the past ten years. It's an amazing, and eye-opening, experience.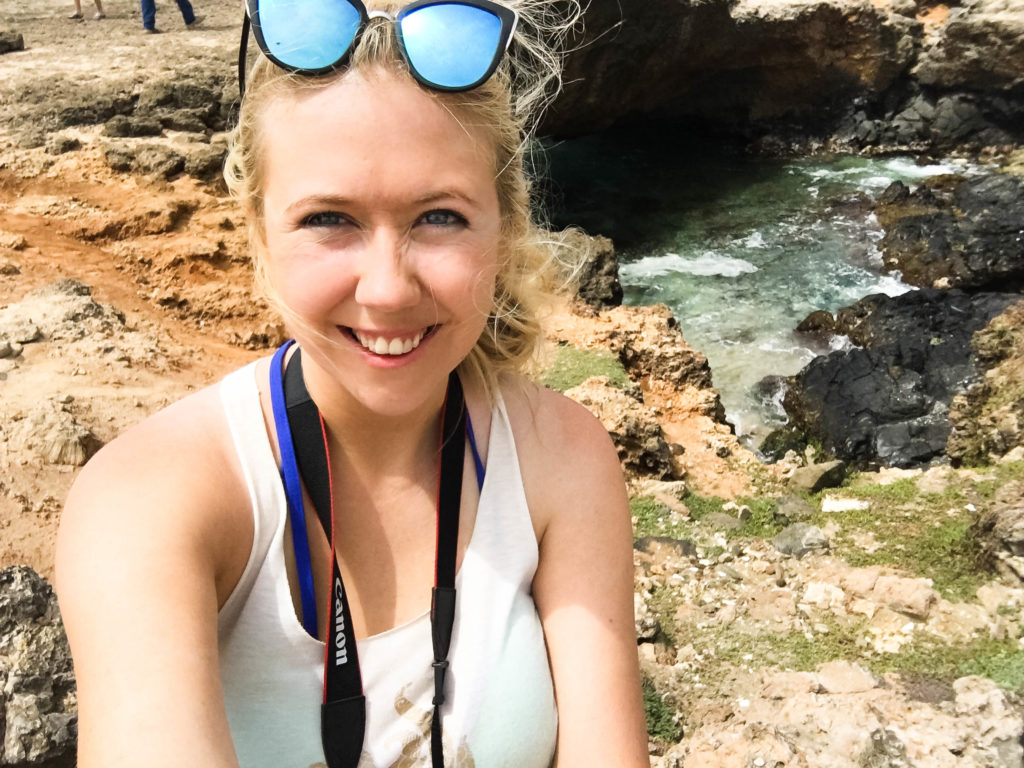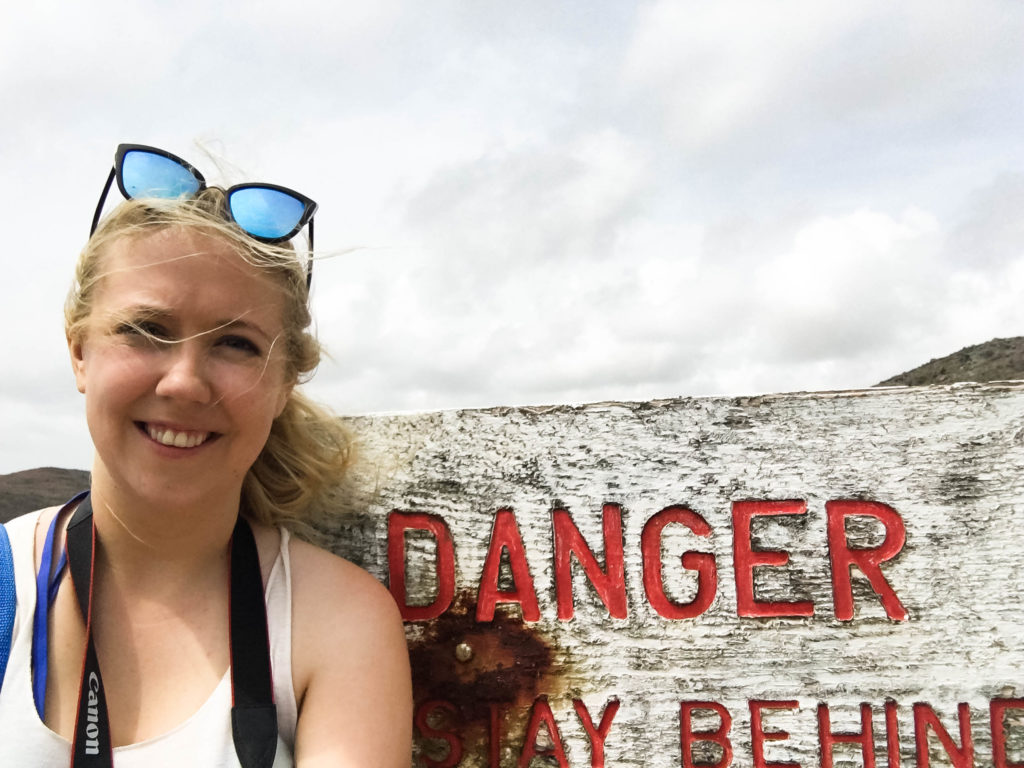 Arriving back at the hotel, I'm full of energy! The main pool looks less crowded today, so I stake out a lounge chair and swim to the swim up bar for a couple of mocktails. There's music playing and water volleyball and it's just lots of fun. Eventually, I wander over to these super cool, honeycomb swings and get lost in my book for a few hours.
I have my birthday dinner on the beach at Atardi with my friend Stacey. It's such an incredible experience that I'm saving it for a separate blog post. But you can get a sneak peek at the meal right now on my Instagram.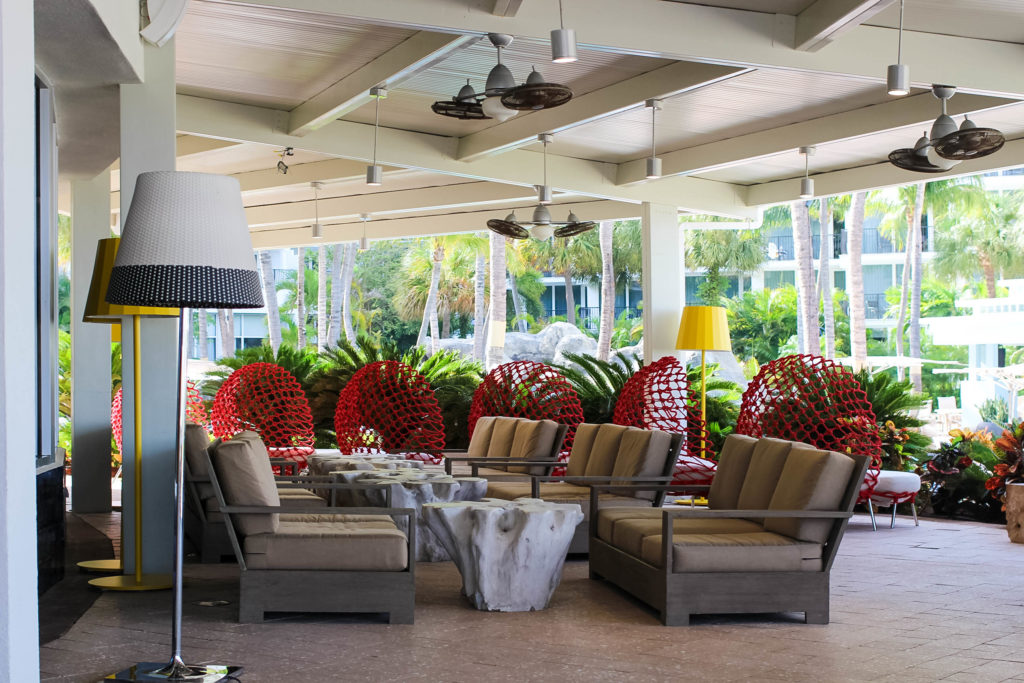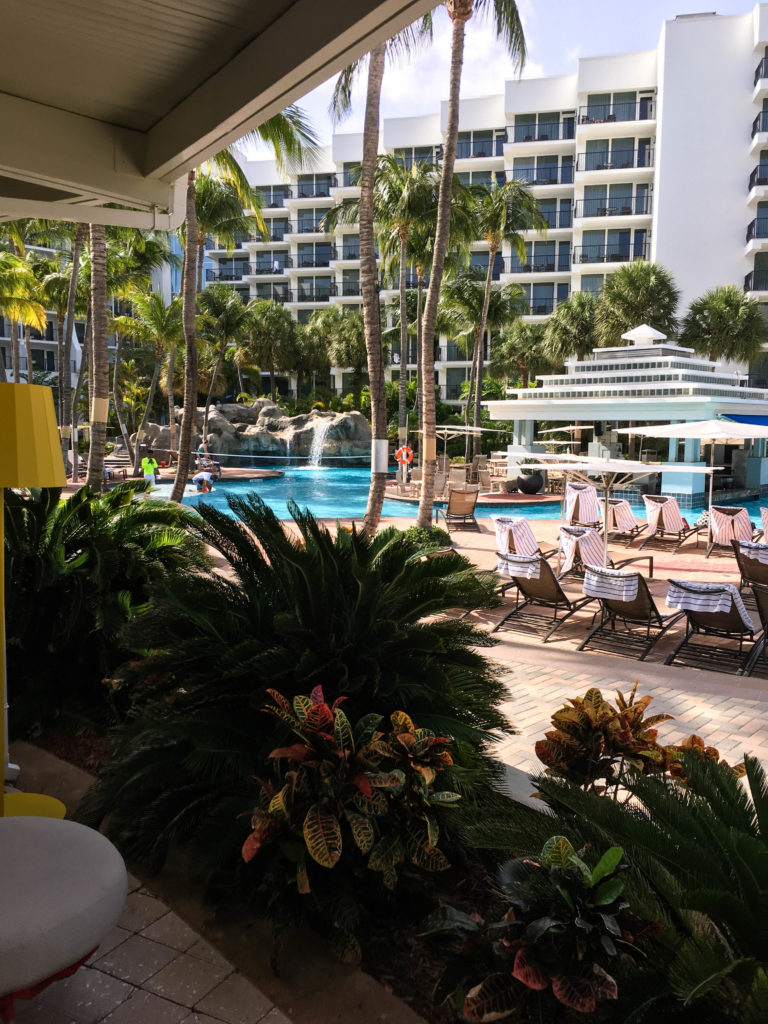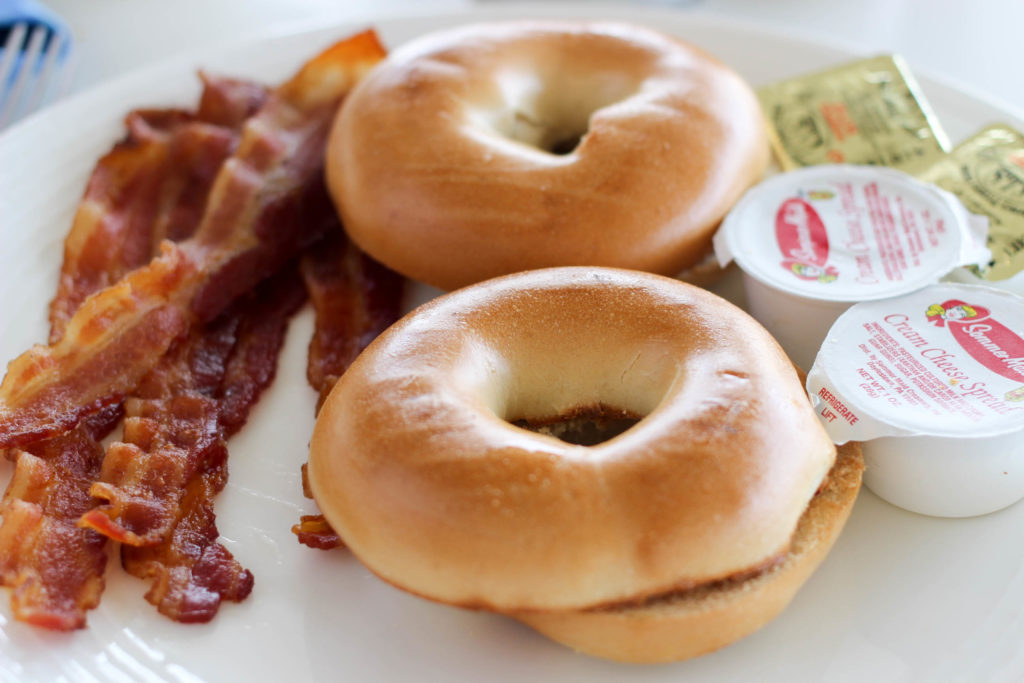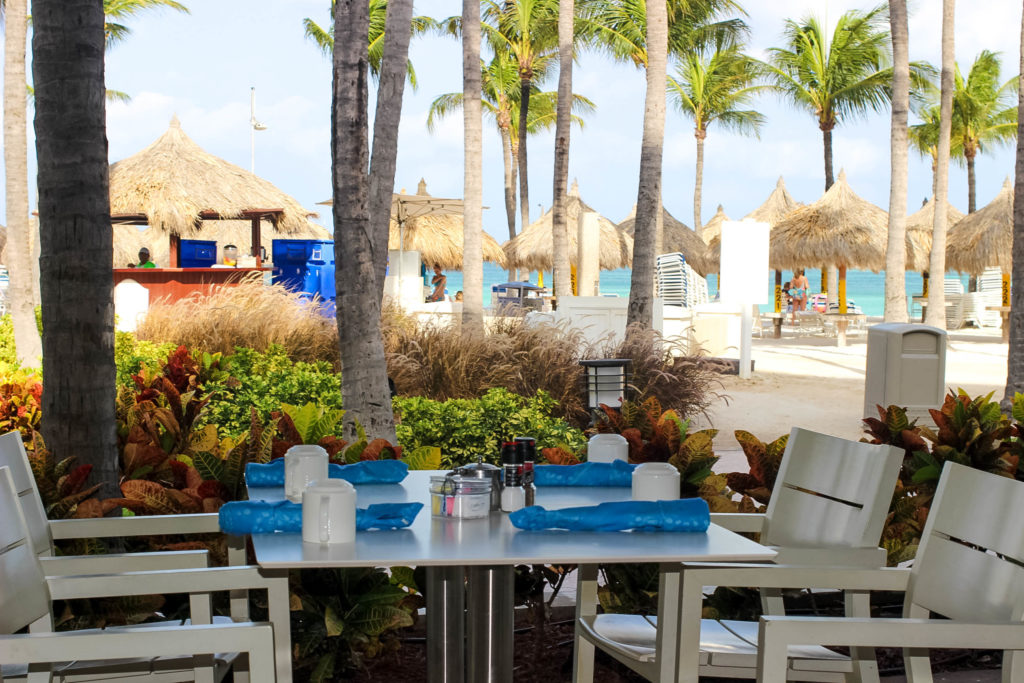 It's my last morning in Aruba, and I'm up early for one last swim in the Caribbean. It's fun to be on the beach while most vacationers are still sleeping. I treat myself to the breakfast buffet on the patio of La Vista and eat my eggs while dreading the airport. The staff here really notices and anticipates needs. Since I'm in a bit of a rush, the waiter surprises me with a fresh cup of coffee in a to-go cup!
The sunshine, the birds, the lizards, the beach, I'm in love with Aruba. I understand why something like 40% of tourists here are return guests! I feel so blessed to visit such an amazing place and to share it with all of you! I hope that I have the opportunity to go back to Aruba someday because I know there is so much more to see and do! The Aruba Marriott Resort & Stellaris Casino is the perfect spot to vacation.
Disclosure: I was an invited guest of the Aruba Marriott Resort & Stellaris Casino for three nights. Thank you to Diamond PR for having me! All other expenses  (airfare, activities, and most meals) paid for by Bostonista. All photos are ©The Bostonista 2017