If you're a Boston girl like me, you've probably spent a few nights at Eastern Standard Grill in Kenmore Square for drinks with friends or even Sunday mornings for brunch but have you ever meandered up the back staircase and down the hall to the calm and beautiful lobby of the Hotel Commonwealth? In December, the Hotel Commonwealth opened it's new wing, adding 96 stylish rooms to its fleet. Some of the new guest rooms even look directly into Fenway Park making it a Boston sports fan's dream!
To celebrate the debut, the iconic hotel invited me to spend the night and experience the new wing for myself! With the impending snow storm, I figured I could use a bit of a Boston "staycation" and settled right into a corner king room on the fourth floor after work last night. The bitter cold kept me inside but it was perfect for exploring the space and its sweeping Fenway views.
Part of the beauty of a staycation is enjoying the hotel guilt-free because you don't feel you should be out exploring a new place or city instead of, say, the awesome sliding barn door to the spa-like bathroom. I fully indulged in having a quiet night in my luxe guest room! The rooms in the Commonwealth's new wing also feature a tablet that provides all kinds of information (room service menus, current weather, etc) as well as a link to things like housekeeping (I used the app installed on the tablet to order up a complimentary toothbrush and toothpaste that arrived within minutes) that I used from the comfort of the king bed.
I took a look out the freezing window and picked up the phone to order room service from Eastern Standard Kitchen. Yup, my favorite steak in the city delivered right up to my room and cooked to perfection!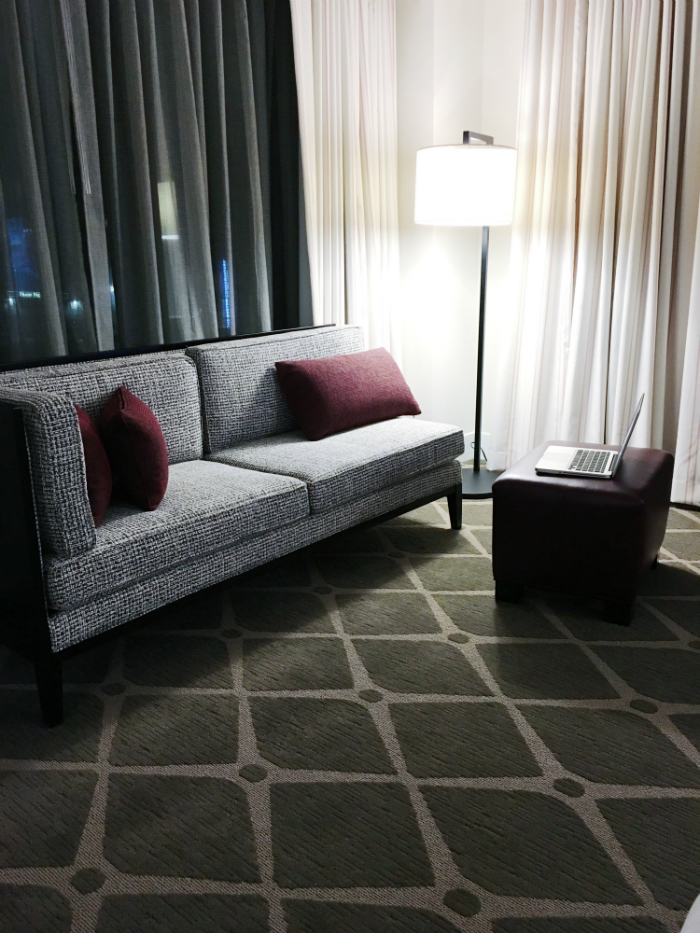 I had intended to get a lot of work done in my little haven but somehow found myself curled up on the couch with the soft red blanket from the bed, a book, and a mug of tea from room service.
Of course, I finished my stay with breakfast with Nutella topped french toast and bacon from Eastern Standard. With the opening of the new wing, Hotel Commonwealth has added a fun, luxe experience to Kenmore Square that appeals to locals as much as it does to travelers.

Please Note: I was an invited guest of Hotel Commonwealth on Friday, January 22nd and Saturday, January 23rd and was provided with a king sized room and breakfast from Eastern Standard Kitchen. Thank you to the hotel and staff for the warm welcome!
In addition, all pictures were taken by me on my iPhone 6s on these dates with the exception of the very first picture which was provided by Hotel Commonwealth.