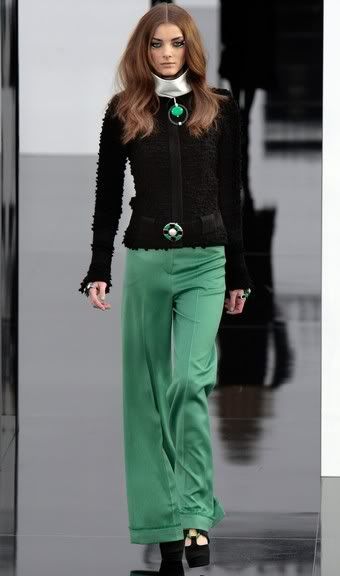 Karl
Lagerfeld's
Fall 09 collection for Chanel was a love letter to everything that made the line so iconic: suits, bags, and little black dresses. While it wasn't his best work, or anywhere close to being the best Chanel collection, it was light and fun and all about the accessories that probably bring in the majority of the house's revenue.
I didn't like the Lucite bags (I don't need the world seeing what I'm carrying) but they did have specific spaces for all your Chanel goodies (sunglasses, I-pod, lipstick, etc) making it the ultimate piece for all you label whores.
While looks for day were all about over embellishments with chunky knits and some interesting (but in my opinion great) color choices of green and pink to compliment the beautiful jade jewelry that the girls wore in abundance, Uncle Karl kept it discreet with simple, spare black dresses for evening.
Oh and you know I'll be obsessing over the mint green nail polish when it hits stores in a few months.
And aren't the hats and eye makeup just divine? I wish I could live my life exclusively in Chanel Fall 09!
https://w.atcontent.com/-/5wiKSHwEkcw/TheBostonista/59TUWyMSWw9.text/Panel/Autocheck