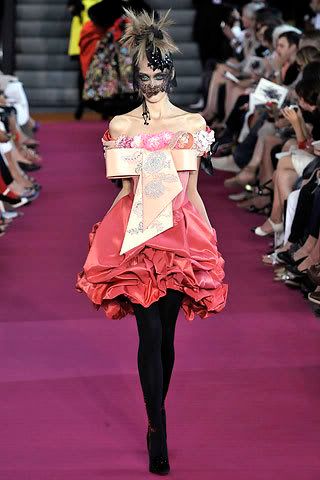 Extravagance was the name of the game at Christian
Lacroix
. While some might argue that in this economy it's time for muted, somber designs
Lacroix
was all about excess and escape. 


Acres of lovingly embellished lace, bead work, layers of hand painted fabrics and fantastical hats and headbands walked the runway as if the models didn't exist; These creations are alive all on their own. Pleats, structure and fabrics folded into petals were so obviously lovingly constructed with every detail made painstakingly perfect. Every detail had dozens of details of its own! I adored the satin hoods, long lace veils and jeweled hair pieces.
It was a display of magnificent abundance that was nothing less than purely delightful. Let everyone else be serious and practical I want to live in  Lacroix's beautiful world
.
https://w.atcontent.com/-/2ZkqsdoyK06/TheBostonista/6GT-gzbmKxK.text/Panel/Autocheck