As the fashion week season rolls on, I'm excited that College Fashion Week is bringing some of that glamour to Boston! Even though I've been a college alum for…a long time, I'll be attending the College Fashion Week experience at Royale in Boston on Saturday, September 29th. It's such a fun event to kick off the fall!
To get excited for Saturday night, I've teamed up with Ulta Beauty to show you exactly how I get my favorite smokey eye look!
I always start with clean, moisturized skin. As a girl with skin that is both dry and prone to acne, I'm a huge fan of gel-based moisturizers. My absolute favorite is Clarins Hydra-Essential Cooling Gel* but at the moment I'm using Clinique's Moisture Surge Extended Thirst Relief Gel-Cream. It has a light scent and I can really feel it seeping into my skin without getting sticky! I like to do my skincare routine at least ten minutes before starting my makeup. That way, the products really soak in, dry, and have time to get to work!
I love primers. Seriously, I have what looks like a collection of primers. I don't know why I need all of them, but I do, okay? I just feel like they all have different purposes and work for different situations! Maybe? Anyway, since my evening makeup is usually much heavier than what I wear for the day I use a heavier primer like Laura Geller's Spackle Supercharged Under Makeup Primer*.
While my primer sets, I get started on my eyes. I like to do my eyes first so that if I make a mistake or need to re-do something, I'm not taking off all my makeup and can easily cover it up with my concealer products later.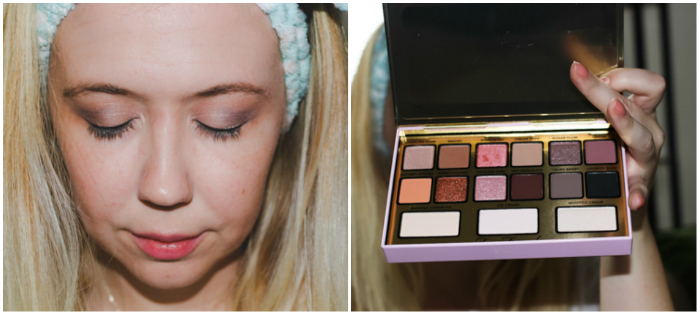 To get my easy smokey eye For College Fashion Week:
I tap on Clarins Instant Light Eye Perfecting Base* from lash line to brow. My favorite palette is Too Faced I Want Kandee because it includes all the different finishes and colors that allow me to create my version of a smokey eye. I use a fluffy brush to cover the entire lid in Ice Cream and then add a light layer of Cream Puff. Next, I take a flat liner brush and fill in the crease and outer eye with Sugar Plum. Then I press a thick amount of Sparkling Cider from the inner corner to the middle of my lid. I use my fluffy brush to blend and even things out as needed. I dab NYX's Jumbo Eye Pencil in Milk* in the inner corners and just under my brow bone to open things up a little bit. I use a liquid liner by Lancome and Benefit's They're Real mascara to finish it off. I'm still learning the art of the eyebrow but I try to clean them up with Benefit's Goof Proof Brow Pencil*.
The rest of my makeup look is pretty simple. Nars Velvet Matte Skin Tint* all over my face. Clarins Instant Concealer* under my eyes and around my nose. My face is so round that I have to do a little bit of contouring to look like I have cheekbones. I use NYX's creamy 3C conceal palette* because it blends so well. I draw a line from my ear to the edge of my lips and then blend with a sponge damp with MAC's Fix+*. It helps set the makeup and makes everything look smooth.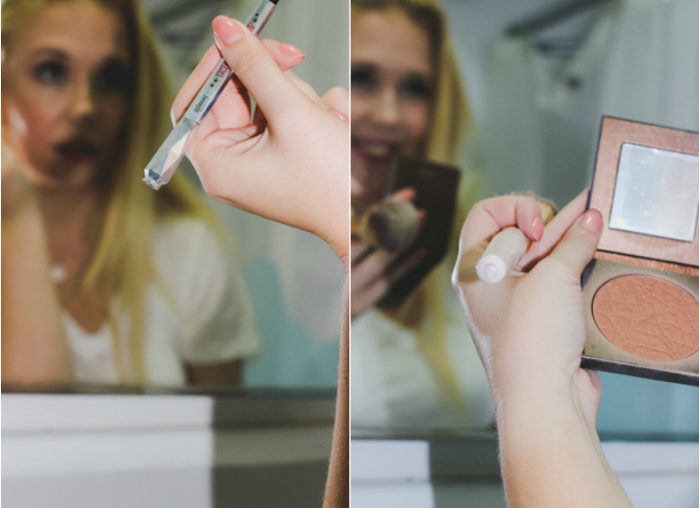 I spray more FX+ all over and do a pop of lip color and viola! I'm ready for a night out at College Fashion Week.
How do you get ready for a Saturday night?
FYI: Some of these products were given to me by Ulta Beauty but if you a star next to their name, it means I purchased the item for myself.  All of these products are available at Ulta Beauty. This post is sponsored by Ulta Beauty and Her Campus Media. All opinions are my own. Thank you for supporting the brands that make Bostonista possible!