I was so excited for the red carpet at last night's Costume Institute Met Gala.
I figured that since the exhibit this year is dedicated to the brilliant career of Alexander McQueen that celebrities and models would be going all out.
How wrong I was!
One of the great things about the Met Gala is that it isn't covered by mainstream media and while Hollywood is always in attendance it is truly a fashion event. You don't have to worry so much about the US Weekly worst dressed list. You can take risks!
But this year it seemed to be mostly about looking pretty.
So disappointed!
At least we can always count on Daphne Guinness!
Daphne Guinness in Alexander McQueen (Archive)
Lack of theme aside, here are my picks for the best dressed celebrities!
Diane Kruger in Jason Wu!
She was definitely the most elegant, sexy, best dressed of the night. Her style choices always work. While I would have loved to see her take a risk she blew the "pretty" competition out of the water.
Liv Tyler in Givenchy Haute Couture came a close second.
I've seen a few people wear this particular dress but Liv really owns it. I love the strategically placed feathers, the fringe detail and the way the color changes from white, to yellow, to almost gold. She went for simple jewelry just some bangles and the hard, square clutch provided a perfect balance to the soft, flowing feel of the gown. I was trying to find a clear picture of the back for you to see because its just amazing but so far no luck. I'll keep looking and try to update if I find one!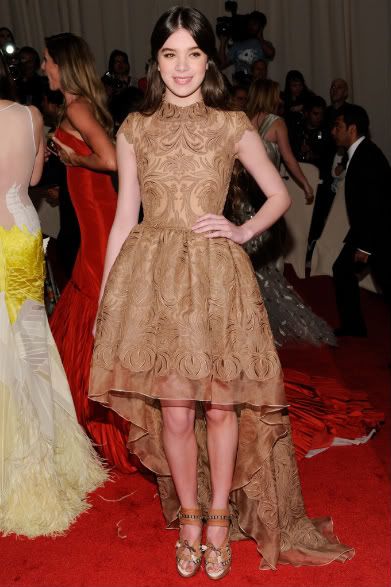 Certainly the most charming look of the night had to be the adorable Hailee Steinfeld in Stella McCartney. At 14 it would be really easy for her to be drawn to more of a "prom" look but time and time again she arrives on the red carpet looking stylish, fashion forward and age appropriate. Just check out those amazing Nicholas Kirkwood shoes! I was surprised that this dress was Stella because I associate her with a different silhouette. This shape seemed like a good homage to McQueen. I wish she had gone for a bright color as the beige washes her out just a bit but overall a beautiful look. Hailee is definitely someone to watch!
Who were your favorites from last night?
https://w.atcontent.com/-/5ji6otS5MQL/TheBostonista/7kIe5texjPV.text/Panel/Autocheck