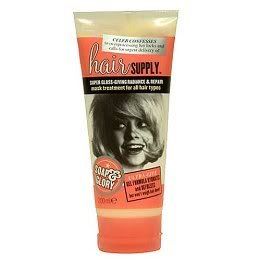 Soap & Glory has fast become my favorite bath & body line. You might remember my obsession with the
Flirtigo spray body moisturizer
(I'm on my second bottle!) and I've continued trying out their products since then. I love their packaging, the fact that it was created by Bliss mastermind Marcia Kilgore, and their great prices!
My hair has always been a sore spot for me. It's frizzy, and coarse. Some spots are wavy and others are stick straight. It's also crazy thick. Plus, my blonde obsession (stemming from mommy dearest btw) doesn't help the situation. I'm always looking for hair products that will condition, smooth, and, most importantly, SOFTEN it. 
But most products are heavy and weigh it down, or sticky and make it look and feel greasy. Its super frustrating.
So, when I was at
Target
in Watertown the other day I naturally ambled over to the Soap & Glory aisle. And thank god that I did! I picked up
Hair Supply
a conditioner/deep mask. I always figure what the heck and I am SO thrilled that I tried it. Hair Supply has a special gel formula but looks and works like a cream to hydrate and de-frizz without adding weight!
First off the actual product smells amazing. A very light almost peach scent thats very clean. Some products are very overwhelming but when my hair was dry it just was very delicate and sweet. It was SUPER hydrating but still very light. I loved how it felt on my hair (I left it on for five minutes as a masque but its definitely good as a daily conditioner too) and then it actually rinsed out really easily without leaving any kind of residue. 
Afterwards my hair looked and felt amazing. Amaaaazing!!! It was much softer than usual, and actually looked glossy, not greasy, for the first time ever! I just can't get over how healthy my hair looks! If it's worked this well after just one use…will I have a chance of the Heidi Klum-esque hair I dream of? Okay, probably not, but I think my hair will be the best that MY hair can be and thats pretty damn exciting.
Plus at $9.99 no one can beat the price!
Soap & Glory is available exclusively in the US at Target and Target.Com. 
https://w.atcontent.com/-/0cJst-0Z4GE/TheBostonista/4FEajbSJlyl.text/Panel/Autocheck