The whole world watched Kate Middleton finally marry her prince back in April.
The fashion world waited to see who she'd turn to for the all important dress.
Of course no one was all that surprised that she turned to the quintessential British fashion house Alexander McQueen.
Sarah Burton, now head designer at McQueen, collaborated with Kate on her famous wedding dress as well as her evening dress for the reception.
But is Kate's sweet and prim style bad for McQueen?
The looks are sometimes a little more commercial than in the past but for the most part I think she's stayed fairly true to Lee's vision.
But when it comes to the Duchess of Cambridge the McQueen aesthetic seems to go out the window. And since Kate is (arguably) their most well known client around the world- is she giving off an impression of the house that doesn't really exist?
My mom (an ardent royal watcher) seemed off put when she glanced through my copy of Alexander McQueen: Savage Beauty. She was expecting to see Kate's style reflected in the pages: sweetly detailed ball gowns, little innocent day dresses, and a well structured coats.
The fact that McQueen (especially in life) was associated with skulls, antlers, and "highland rape" was the complete opposite of what she expected.
Of course Kate is in a very public position and she can't embrace fashion in the same way as Daphne Guinness. I understand that. Things have to be appropriate for a royal, a princess, and a role model. As much as I love that McQueen is now a household name, I want to scream at her, "Pick a different designer!"
In my opinion Lee would have been utterly bored by both of the "McQueen" ball gowns Kate has worn.
I was shocked when I read that the dress Kate wore to the BAFTA dinner in LA last night was McQueen. Other than the structured bodice does anything about this gown say McQueen to you?
Other than her ceremony dress at the wedding there has only been one other time that I felt like she was truly wearing McQueen correctly. Here she is in a McQueen military coat at some sort of Irish Guard event.
Here are some more Kate in McQueen moments.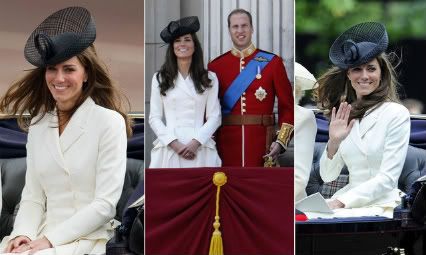 So what do you think? Do you like Kate's McQueen or do you want her to step far away from the brand?
https://w.atcontent.com/-/5uaYs_idsQN/TheBostonista/44WxpuiAVn0.text/Panel/Autocheck