I think I will forever hold a soft spot in my heart for
Kaelen
since this was my first ever NYFW event.
So, its a good thing that I genuinely loved this collection and want every piece.
Kaelen Farncombe has been showing her relatively new line at New York Fashion Week for the past couple of seasons but really gained momentum last season with her Fall 2011 collection and she definitely built on that for Spring 2012!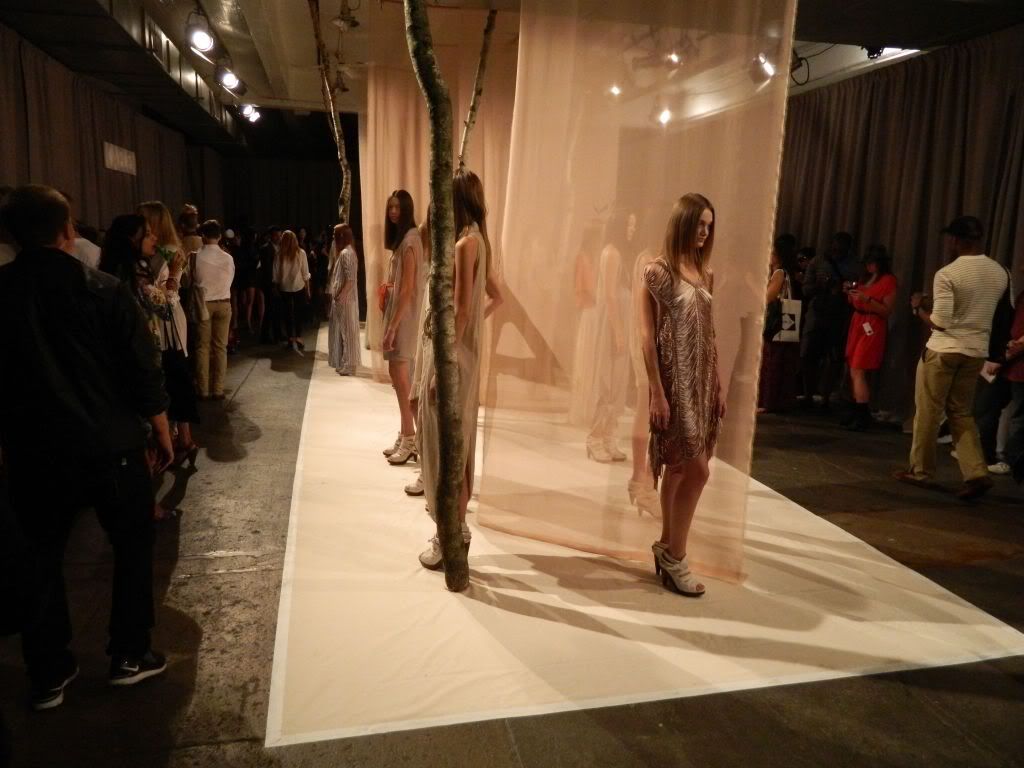 The set was simple with white birch trees and cream fabric- the perfect backdrop to this easy, tonal collection. The glasses of moonshine being passed around to guests added to the woodsy, hippie vibe of the collection.
Pale and neutral colors flowed throughout the collection occasionally punctuated with orange and ink blot prints. The fabrics ranged from crushed velvet to cotton and silk to macrame but they all achieved an appealing fluidity that created cohesion beyond the color palatte.
Lets take a look at some of my favorites!



I usually think that putting two loose pieces together is a recipe for disaster but the cropped length of this orange silk top and the sheer skirt provide a different sort of balance so that soft shape is still complimentary to your curves.
Another example of sheer done pretty:
I'm obsessed with the seafoam greens in silk noil especially the draped tank dress with the ruffle slit up the side. I also really loved the slouchy striped suit with the green silk noil underneath.

It reminds me of the pajama trend but with edge. Comfortable without looking sloppy.
But for me the absolute stand out of the collection has to be the white pleated disco dress!

The pleats reference the seventies without being costume and the kimono-esque shape is universally flattering. If you want something similar but shorter and sexier than the crushed velvet draped pocket dress. 
I think we've found a new go to contemporary line for pretty and comfortable!
Thank you to everyone at Kaelen and Krupp Group for the invitation!
(All pictures belong to me! Please credit if you use them! Thank you!)
https://w.atcontent.com/-/4IJSgs29gf-/TheBostonista/1ZFlgMaL-bN.text/Panel/Autocheck