The 15-Step Korean beauty routine is endlessly appealing to me. Don't you want to be the kind of woman who has the time to do this? I want to be this organized, motivated woman with glowing skin!  After all, I can barely drag my ass down the hallway to wash my makeup off every night let alone add in a second cleansing and layers of serums. But I would like to be the type of woman who wakes up 20-minutes early to have clear, glowing skin!
Anyway,  it's no secret that "K-Beauty" has a cult following among bloggers, editors, and beauty addicts around the world. With demand booming, beauty may soon be Korea's top export! Okay, maybe not, but their approach is now popular around the world.  Why? Korean beauty brands focus on being both innovative (they brought us BB creams, after all) and accessible with competitive pricing and adorable packaging. Thanks to specialty retailers like SokoGlam and Peach & Lily it's easier than ever for American consumers to try out small Korean beauty brands while Sephora, Amazon, and even Urban Outfitters now stock Korean beauty staples.
With such a dense market, it's hard to know what to try first but I've dabbed, scrubbed, and tapped a lot of them into my skin to find you the 10 best Korean beauty products to try now!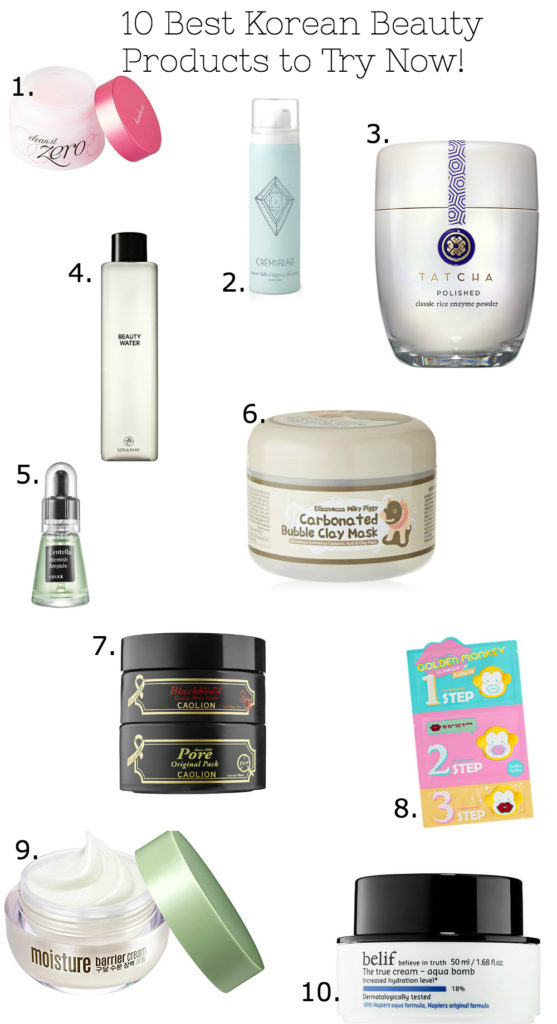 1 Banila Clean It Zero Sherbet Oil Cleanser// 2. Cremorlab Snow Falls Whipping Cleanser// 3. TATCHA Polished Classic Rice Enzyme Powder// 4. Son & Park Beauty Water// 5. Cosrx Centella Blemish Amoule// 6. Elizavecca Milky Piggy Carbonated Bubble Clay Mask// 7. Caolion Hot & Cold Pore Pack Duo// 8.Holika Holika Golden Monkey Glamour Lip 3-Step Kit// 9. GOODAL Moisture Barrier Eye Cream// 10. Belif The True Cream Aqua Bomb
Double cleansing is a huge part of the Korean beauty ritual and it usually begins with an oil based cleanser gently massaged into skin and rinsed, followed by a traditional water-based cleanser. It sounds strange but oil actually dissolves oil and it's better at removing makeup so it's a good way to get things started without stripping the skin. I love Banila's Clean It Zero Sherbet Cleanser because it starts out like a balm, turns into an oil on skin contact, and melts off every little bit of makeup.
Twice a week, exfoliate after cleansing to really get any leftover bits out of pores. My skin is extremely sensitive so finding an exfoliator that scrubs away dead skin cells without irritating it has been a challenge. TATCHA's Polished Classic Rice Enzyme Powder is the only one I've found that doesn't turn my skin bright red and itchy after use. It's pricey but worth it.
Son & Park's Beauty Water is such a cult-favorite that it regularly sells out online. Luckily, Sephora is now carrying it Stateside so it should be easier to find! This product basically does everything; you can use it to cleanse, tone, exfoliate, and hydrate. It's basically my best friend. It works on all skin types and gives my lazy butt no excuse to skip skincare before bedtime! When I break out, I like to pat Cosrx Centella Blemish lotion directly onto pimples. It's drying so I use it sparingly but it cuts my breakout times in half.
I know sheet masks are all the rage but I'm old school and prefer clay. You've probably seen Carbonated Bubble Clay Masks all over your Snapchat feed. It literally foams up on your face making you look like a swamp monster. It's a super fun way to scare your friends! Just kidding, sort of, but it's also great for a deep clean pulling blackheads and impurities up and out of pores. Plus, it's under $10 on Amazon so you really can't go wrong!
For another fun treatment, I love my Golden Monkey Glamour Lip 3-Step Kit. It comes with three separate little gels- one to exfoliate lips, one to deeply moisturize, and one to finish off. It's great before a date or in the morning when you want soft, smooth lips all day.
Finally, my absolute must have is Belief's True Cream Aqua Bomb. It's the perfect daily moisturizer for my combination skin. Starts as a cream and blends in like a gel. Perfection.
What's your skincare routine this year? Have you incorporated any Korean beauty products yet? I'd love to hear your favorites in the comments!
Shop All of My Korean Beauty Favorites: