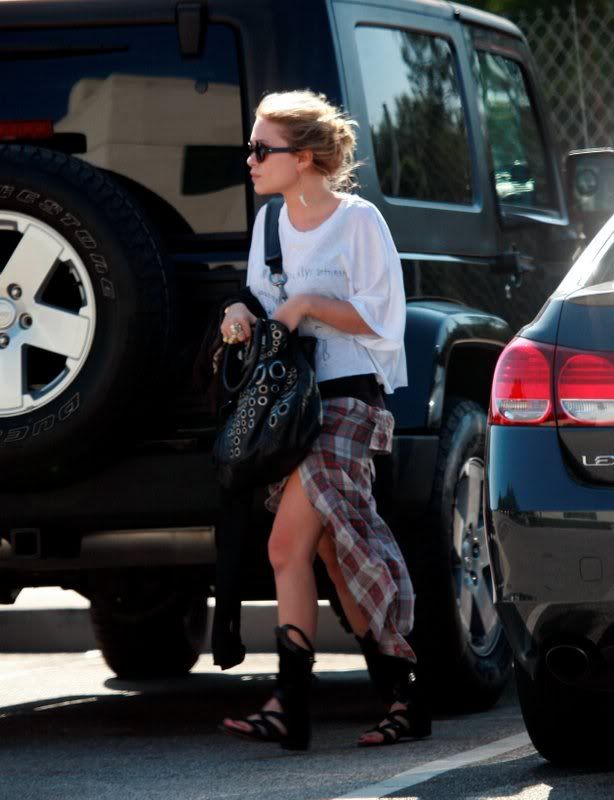 MK is creating her own grungy style by stealing old ideas from the early 90s and mixing it with her favorite contemporary pieces. A lot of people are screaming that she is the worst ever for even daring to wear a flannel shirt wrapped around her waist because she is "so obviously the complete opposite of what grunge stood for!" I think it's just comfortable and cute. And her obsessions never last that long anyway. I can understand the appeal I mean when I was 9 I thought Angela Chase was the epitome of style. 
Totally obsessed with these shoes
btw
. If you know who they're by and where I can get a similar pair at a significantly lower price point that
MK's
that would be awesome!
I think it has more to do with finding a modern comfortable style than it does with trying to be "grunge" on
MK's
part. I also think, as I was saying, that her style obsessions are intense and whole hearted but fairly quick. In six months she'll be on to something down a completely path. But that's part of why I find her so inspiring-she evolves and yet is still always herself.
MK loves plaid so much that a few months ago she hosted a birthday party for her friend with a
plaid theme.
Yep, all the guests were wearing plaid and I bet there was even a plaid cake.
<img alt="
<img alt="
I'm also obsessed with
MK's
Alice-in-Wonderland-
esque
hair band-bow-thing!
https://w.atcontent.com/-/5WAOilJQbh0/TheBostonista/3i31ayhBAv6.text/Panel/Autocheck