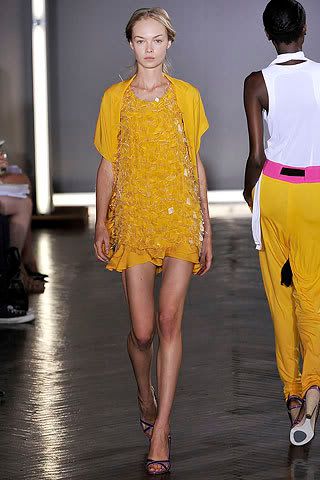 I was really excited to see what Adam Lippes's was offering up for spring because I'll be meeting him at his trunk show that Dress is hosting on October 1st. (If you'd like to attend it's from 5-8!) 
From the beautiful colors to the Rasta inspired hats I was not disappointed! Prints appeared to be painstakingly hand screened and yellow brightened up nearly every look. Not surprisingly Adam said he had been particularly inspired by MOMA's Color Chart exhibit. Besides the yellow, blue and hot pinks as well as chunky Lucite beads added a dimension to the collection that could only be described as "groovy". 
I'll have to majorly tone up if I want even a ch
ance of looking good in these looks–sheer and short is officially the name of the spring 09 game.
Don't forget! Adam Lippes Trunk Show at Dress on Newbury St 10.01.09 from 5-8 pm!
https://w.atcontent.com/-/3ZEKlIjza-6/TheBostonista/331eT24iCb9.text/Panel/Autocheck