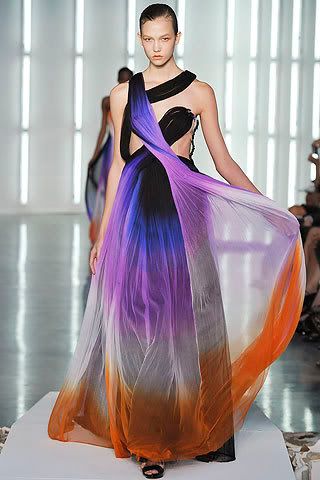 Rodarte

continues to be the stuff my dreams are made of. The

Mulleavy

sisters other-worldly creations are  far from commercial making them a hard sell for stores; Other than the occasional red carpet appearance their garments are rarely seen…I don't even know where you would go to buy them besides directly to the company.
That might be part of why I love

Rodarte

…it's an incredibly intellectual and conceptional collection. You can't look at it without feeling somehow provoked.
Structured slashes lent the look of an exoskeleton to pieces and it was clear that the armor of flesh was present throughout the collection. From feathers to leathers to chains and scales to long hair embellishments this was a story about a post-apocalyptic nature. Towards the end of the collection longer gowns mimicked the elements-water and fire-as if the big bang erupted over the models and rained down to dress them in the ashes.
https://w.atcontent.com/-/1b9Sj2Lvx9g/TheBostonista/1OBrwZSvLh2.text/Panel/Autocheck