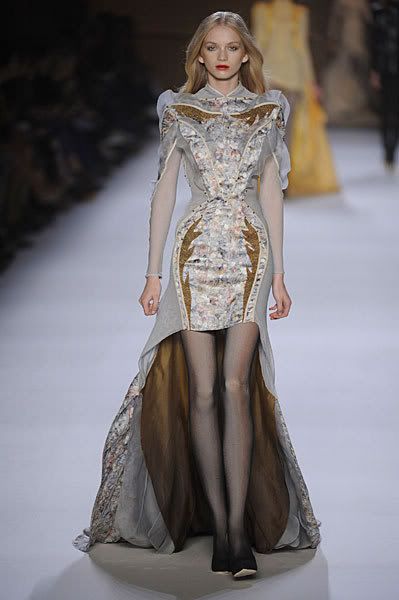 Victorian-era romance reigned supreme on Olivier Theyskens Nina Ricci's Spring/Summer 09.


He kept it modern with an alluring sensuality running throughout with transparent tops and black stockings matched with nude colors.
The silhouette was beautiful and Theyskens managed to make it look fresh with his use of colors and prints but the dresses did get repetitive especially towards the end of the collection.
It also raises the question as to where Olivier is planning on taking the house. While beautiful and well crafted have made many appearances on the Nina Ricci runway since he became head designer at Nina Ricci (and certainly he's been a positive influence on fragrances sales. Mommy Dearest even has a bottle of Nina Ricci perfume) but there hasn't been a consistent true aesthetic and this collection brought us no closer to finding one.
I don't know how commercially successful this will be but it certainly made for a beautiful show.
https://w.atcontent.com/-/4D8gcOqhxLB/TheBostonista/7Sj5jLh-I05.text/Panel/Autocheck