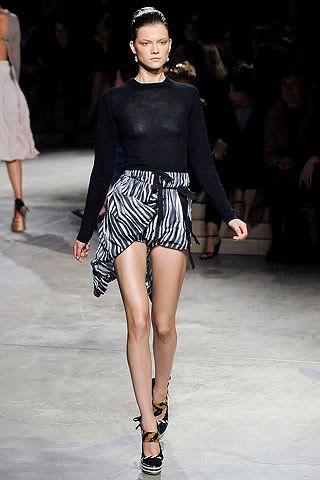 At first I wasn't really sure what I thought of Prada's latest collection.
Whenever I see completely exposed abs I feel like its 2000 and everyone wants to be darling Britney.
And while she's on the comeback trail I don't think she's ever been Miuccia's muse.
But once I got past the pop star thoughts I saw that it was a collection of minimal basics stripped down to their barest forms. These are meant to be layered and mixed. Pieces that can enhance something more extravagant or turn evening wear  into a look for the office.
But it was also a shameless display of feminine sexuality lots of sultry bare skin barely covered by clothes just seconds away from slipping off. The models were tousled and dreamy women coming into their own.
All in all as inspiring as we've come to expect from Miuccia Prada.
https://w.atcontent.com/-/4BZhTUnggKx/TheBostonista/65CDocJXvkc.text/Panel/Autocheck