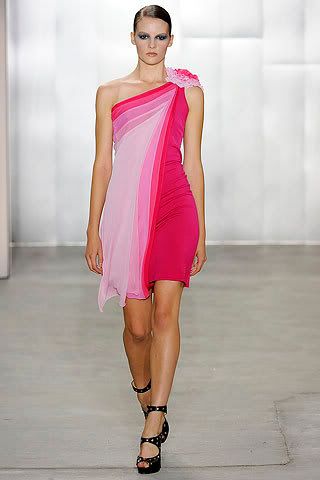 I know a lot of people really hated the Temperley show. Expectations ran high and maybe the end result was a bit of a let down. But there were a lot of pieces that I thought stood out.
I'm not a huge fan of women in tuxedos but I understand wanting to recreate the look. Thats why I think this tuxedo dress is the only way rock the style.

The signature Temperley sweetness was mixed with a new layer of sophistication. This was Alice Temperley's first show back in London after several seasons in NYC seemed inspired by tea parties and life of luxury and leisure. Maybe thats why the collection hasn't gotten the warmest response? What works in a garden at Windsor doesn't always translate to the cold reality of Manhattan. There were times towards the end of the show that pieces were a bit too reminiscent of Erin Fetherston's recent disaster but for the most part these were pieces to be embraced and worn by girls who may be quiet but refuse to be wall flowers.
<img alt="
<img alt="
<img alt="
<img alt="
<img alt="
<img alt="
<img alt="
<img alt="
<img alt="
https://w.atcontent.com/-/5iBI-ZIZSQt/TheBostonista/0AcBhCez7bf.text/Panel/Autocheck