For Part 2 of my guide to visiting Nantucket in the fall, I thought I'd share some of my favorite spots to shop and dine on the island because swimming isn't so fun in November.
EAT:
Once I settled in at the cottage, I headed to lunch at the Starlight Theatre & Cafe (1 N. Union St.) Just a short stroll up Main Street from Straight Wharf, the Starlight Cafe is a charming spot tucked away down the cobble stoned North Union St, Starlight is a full-service cafe and bar, as well as the island's only year-round movie theater. Order the Banh Mi (Starlight's delicious take on a duck burger) and make sure to ask for the homemade ketchup!
Nantucket Prime (29 Broad St) at the Jared Coffin House is a steakhouse (the 9 oz filet mignon is to die for) but also boasts an impressive raw bar. While the hotel has a distinctive historic feel, the dining room feels elegant and modern with a mother of pearl wall and unique light fixtures. The chef sent out some crab cakes as an appetizer and I had the swordfish with a buttery lemon sauce and roasted carrots for my entree. A bowl of sweet raspberry sorbet and a pot of white peony tea hit the spot after dinner.
There is only one thing getting me out of the world's most comfortable king bed (seriously, the beds at the White Elephant are heaven) in the morning and that's breakfast at Brant Point Grill (50 Easton Street,) Located inside of the White Elephant's main hotel, BPG is a relaxed spot overlooking the harbor. I devoured my Vanilla Bean and Challah French Toast (complete with bananas and gooey caramel sauce) from the covered deck next to the rolling green lawn. I also had a cappuccino and, when I asked for a little cinnamon to put on top, the waitress promptly brought some out in a charming little dish with tiny sugar spoon. One of the best things about Nantucket in October is that Sunday morning breakfast is a leisurely affair that you can stroll into without too much worry about having to wait.
SHOP:
As a fashion blogger, I'm obviously always the most interested in finding the best places to shop in any new place that I visit so, of course, I was dying to pop in and out of all the little stores in the downtown area. After lunch, I strolled down to Old South Wharf for a little retail therapy.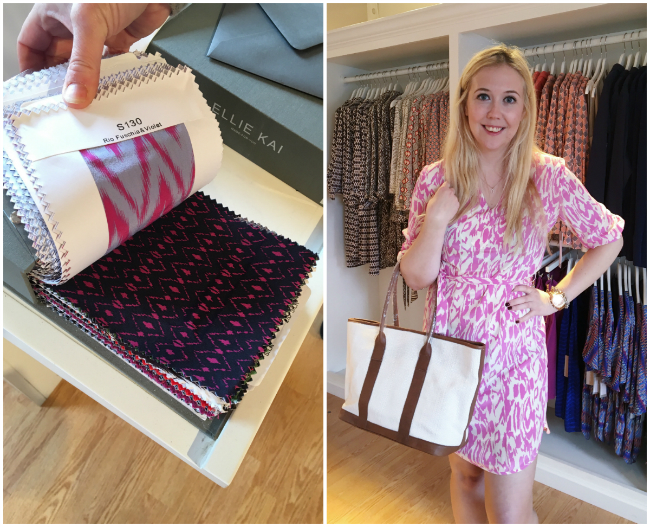 First up, Ellie Kai's Nantucket showroom (5 Old South Wharf) where I tried on some classic shirt dresses. Ellie Kai's made to order philosophy allows women to try on styles and customize pieces to their exact specifications using textiles exclusive to Ellie Kai. Don't like the color of the dress? It's okay because they have dozen of prints and colors to choose from for each garment. It's the ultimate, personal shopping experience! While you can purchase pieces off-the-rack at the Nantucket showroom, I was enticed by a silk print called Manolete for the Ashley dress I picked, so it's out there somewhere being made just for me! I can't wait to share the results with an outfit post as soon as the package arrives!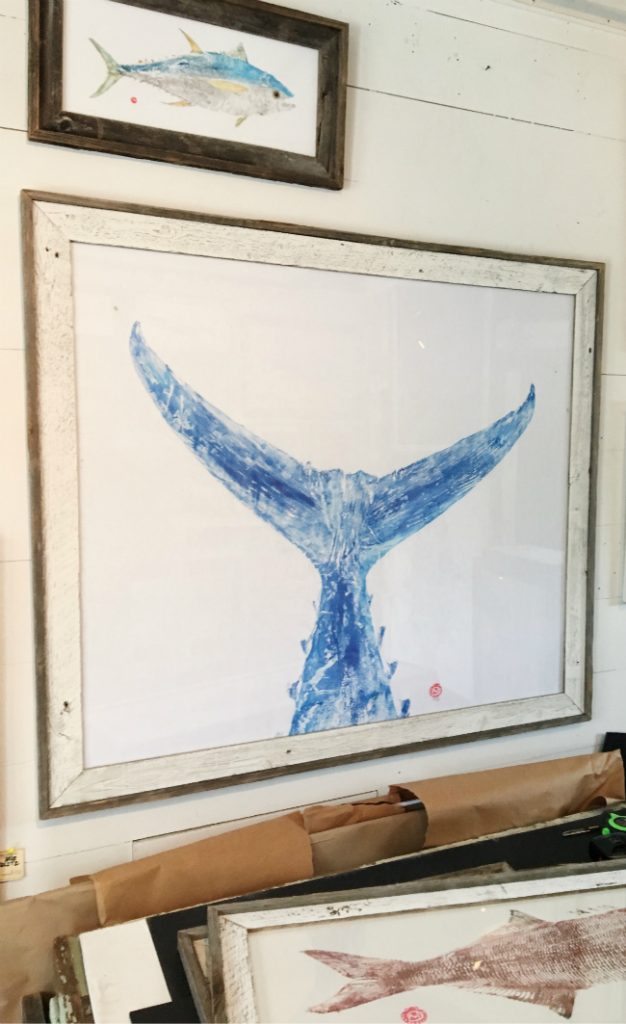 Feeling quite sophisticated after my bespoke experience, I went to see jeweler Kathleen Duncombe's Made on Nantucket. A cozy spot filled with work by Nantucket artists and an impressive collection of Bakelite and Bakelite-inspired jewelry. Next door, I visited with artist Pete Van Dingstee of Pete's Fresh Fish Prints. Pete is known for his "Gyotaku", or capturing prints of actual fish on rice paper to reproduce the characteristics of individual fish. Originally used by fishermen to record and measure their catches, Pete's prints are breathtaking pieces of art. At first glance, I thought they were incredibly detailed, oversized watercolors but then Pete explained "gyotaku" to me, how he paints the body of the fish and gently presses them into the canvas, and the scale of some of the pieces hit me. The walls of his shop are covered in the large originals and prints so that you immediately feel like a lone swimmer surrounded by schools underwater. If I ever have my own beach house, I want one of Pete's giant yellowfin tunas hanging on it's walls.
The next morning after breakfast, I ventured down to Milly & Grace (2 Washington St,) for some more fashion. Owner Emily Hollister named her contemporary boutique after two of the most stylish women she knew: her grandmothers! Milly (the sassy one) and Grace (the sweet one) perfectly captures the modern but classic feel of shop. It's the perfect spot to find a girlie housewarming gift or stock up on cashmere from designers like Minnie Rose and dresses from Rebecca Minkoff. There is also a great selection of jewelry and housewares. If I had my own boutique, I'd want it to be just like this!
No trip to Nantucket would be complete without a stop into the iconic Freedman's of Nantucket. The owner, Don Freedman, designs beautiful but functional pieces of home decor but is especially known for his elegantly modern clocks. Inspired by some nautical themes, the clocks and pendant lights are still surprisingly contemporary with a twist of steampunk. There is also an impressive array of leather pieces (need a fully stocked, leather picnic trunk for the car? How about a leather bar made from a repurposed steamer trunk? Perfect for any man cave or library!) and gorgeous hand beaded evening bags from a co-op program in India that Mr. Freedman sponsors. I left with a beautiful vase and matching candy dish to brighten up my cherry living room set.
Finally, just before boarding the ferry to leave on Sunday (it was heartbreaking), I made a quick stop in at Best of the Beach (2 Straight Wharf), to visit their Gretchen Scott corner and to check out their selection of Nantucket knick knacks, womenswear, and home decor. It was the perfect way to end my weekend of shopping on Nantucket!
Disclosure: I was a sponsored guest of Nantucket Island Retail this past weekend on Nantucket Island. My itinerary, accommodations and meals were all provided by NIR.