Despite being a fashion blogger, and working at the best contemporary boutique in Boston, I don't actually shop very often. I'm a girl on a budget, after all! So it's fair to expect my fall 2017 wishlist to be endless but there are only six pieces on it! Can you guess the six pieces on my fall 2017 wishlist?  Shop my fall 2017 wishlist below and tell me what's your must-have this season?
Okay, so it might be a small list but it is kind of decadent. I guess.
A Camel Coat: There is something so sophisticated about a long camel coat.  It reminds me of the autumn scenes in You've Got Mail. Did Meg Ryan even wear a camel coat in that movie? Anyway, I'm partial to this take on the classic by Rag & Bone, but the fit is really the most important thing to consider. Where it hits on the leg, how it feels on the shoulders, where it buttons. A streamlined, to the knee style, will work on nearly everyone. See my other camel coat favorites by clicking "Keep Reading"!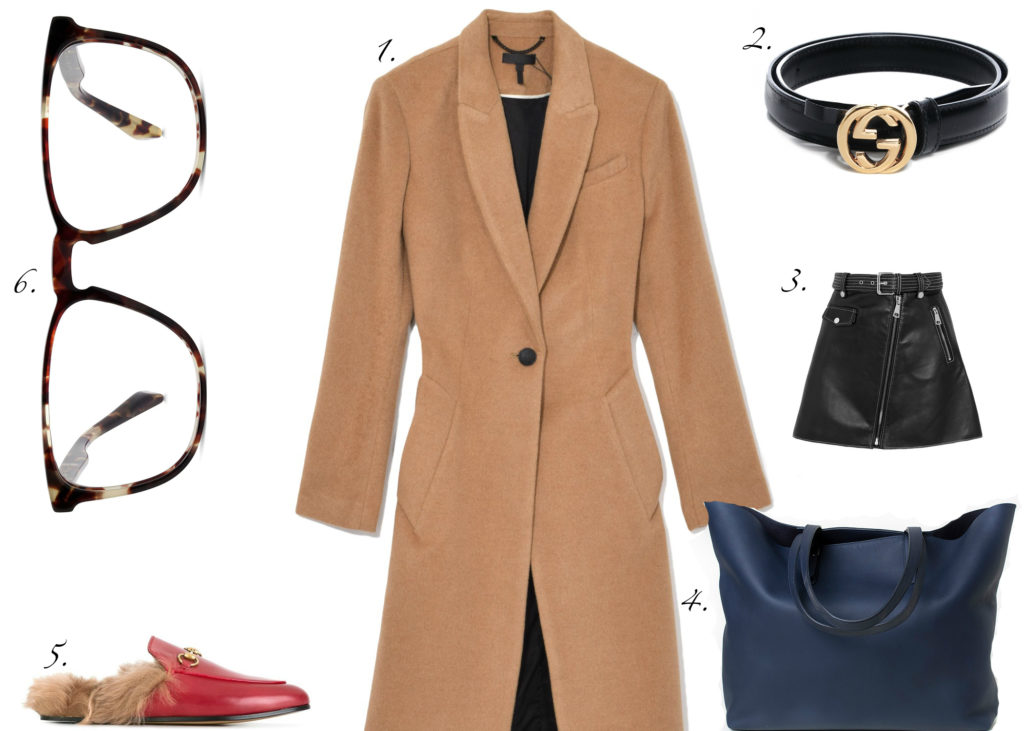 1. Rag & Bone's Duke Coat //   2.  Gucci's Black Leather Belt //  3. Leather mini skirt by MAJE  // 4. The Petra Market Bag by EverLane//  5. Horsebit-Detailed Shearling-Lined Velvet Slippers by Gucci  // 6.Tansley Eye Glasses at Warby Parker
2. Gucci Black Belt: I hate being the only person without something, and it seems like I'm the only blogger without Gucci's logo belt.
3. Leather Mini Skirt: A leather skirt is just another staple every woman needs. I love the asymmetrical zipper on this version from MAJE but I think any style with a slight A-lIne that hits just above the knee is perfect for fall.
4. Super Soft Tote: I recently bought a vegan leather brown tote from Street Level but I'm really dreaming of this buttery tote from EverLane. The only thing I would add? Monograms!
5. Fun Loafer Mules: Obviously, fur-lined shoes are not practical. But with the flat mule trend not going anywhere, I think a fun pair (rather than a basic black) is appropriate!
6. Big, Nerdy Glasses: Don't ask me how I do it, but I lost two pairs of eyeglasses this month. My real glasses and my backup pair. I can't find them. I wake up and put my contacts in before getting out of bed. It's bad. But it is a good excuse to try a completely different style! For some reason, I think nerdy, vintage looking frames are chic! I used to want the least assuming pair possible, but I'm okay with needing glasses now. I'm taking advantage of Warby Parker's free Try On At Home program and will ask for opinions on the five frames over on my Instastory when they arrive!
Shop More of My Fall 2017 Wishlist Here: