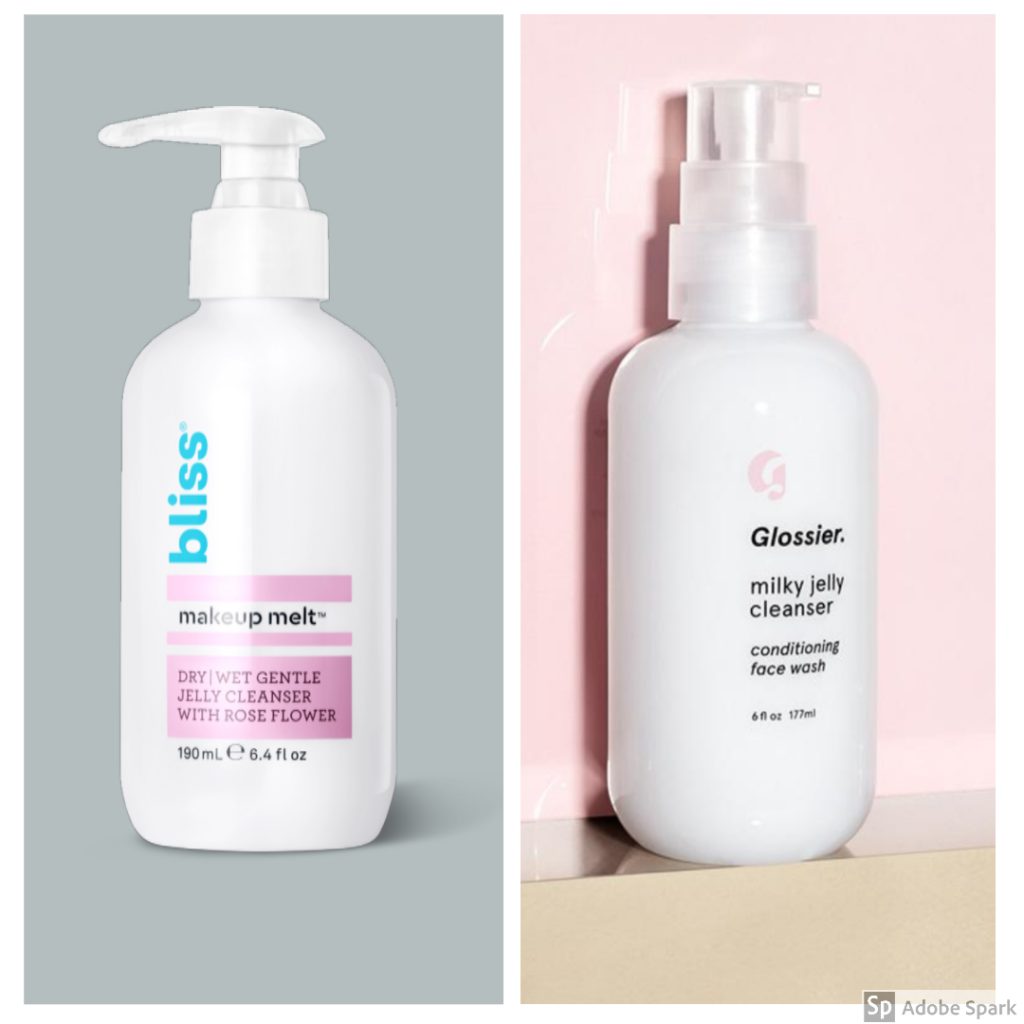 Glossier Milky Jelly Cleanser VS. Bliss Makeup Melt Gentle Jelly Cleanser
A few months ago, beauty bloggers everywhere rejoiced over the news that our beloved Bliss Spas was rebranding their skincare line into an affordable, and Instagrammable, brand available at Target. While the classics remain, there are a couple of interesting additions. Namely, the Bliss Makeup Melt Jelly Cleanser. It's obviously intended to be a drugstore dupe of a personal favorite of mine, Glossier's Milky Jelly Cleanser. At $9.99, it's nearly ten dollars cheaper than Milky Jelly Cleanser and that's without adding in shipping. Apparently, it's also available at Ulta and Amazon for around $12.
One of the things that I absolutely detest about Glossier is the shipping time. The first time I ordered from them was right around their original launch, so it made sense that logistics were a little bit off. It's to be expected from a tiny, startup! But over the past few years, Glossier has grown into a major (albeit still independent) beauty brand. They seem to be launching new products every 3-6 months, they now ship internationally, have permanent stores in New York and LA, and host pop-ups around the world. At this point, I feel like I should be able to receive my orders in a reasonable amount of time – especially when I'm stuck paying for shipping. Okay, that was kind of a tangent, but my point is that as much as I love Glossier products, I'm not always eager to order from them.
So the idea that a brand I already trust, like Bliss, has a dupe that's cheaper and I can grab during a grocery run? That's obviously appealing. Now that my bottle of Milky Jelly is gone, I'm cracking open Bliss Makeup Melt Jelly Cleanser to compare.
First off, Makeup Melt Jelly Cleanser is obviously a dupe of the Glossier packaging. So much, in fact, that I'm honestly surprised Glossier hasn't tried to go after them. The cloudy, white plastic bottle is the same shape, the cute, typewriter font, pops of millennial pink. It looks just as cute as Glossier in my #shelfies! Like Milky Jelly, Makeup Melt Jelly Cleanser can be used on wet OR dry skin, contains rose and pro-vitamin B5, and both are paraben and cruelty-free. That's pretty much where the similarities end.
I'm not a fan of the powdery, rose scent of Glossier's Milky Jelly Cleanser but it's so mild that I don't find it offputting. I think Bliss tried to recreate it here, unfortunately, it's an overwhelmingly strong, chemical smell. One point to Glossier!
Bliss Makeup Melt Jelly Cleanser is not really a jelly. At least, not when compared to Glossier. It's a liquid consistency that seems closer to a CeraVe wash. This is especially obvious as soon as it comes into contact with water. While Milky Jelly feels like a bouncy, velvet substance while I wash my face, Makeup Melt feels like….soap? It lightly bubbles up while being massaged and takes a lot of extra water to rinse off completely.
But none of this matters if the results are similar, right? It does a pretty good job of removing eye makeup in a few easy swipes BUT I'm not comfortable applying it directly to my eyelids the way I would with Glossier. I tried to, and it stung my eyes so badly! Apparently, Poloxamer is a key ingredient in Milky Jelly. It's the cleaning agent used in contact lens solution, so the formula is non-irritating. My skin definitely feels clean and soft after Makeup Melt and I haven't noticed much of a difference in tone or breakouts. It does feel much drier and less nourished afterward, so I've been using a heavier moisturizer.
If I wasn't expecting a dupe of a product I already love, I'd probably be satisfied with Bliss Makeup Melt Jelly Cleanser. It's comparable to drugstore classics like CeraVe and Cetaphil with the added bonus of being a strong makeup remover. I'm more likely to reach for this, instead of one of them. A little goes a long way, so it's affordable as well as easy to find. The thing is, they set themselves up to be compared to Glossier Milky Jelly and just really fell short of the mark.
I'm planning to finish the bottle (I have a lot to go) or at least keep it as a good backup. But if I have a choice between the two, I'm spending the extra money on Glossier's Milky Jelly.
What do you think? Have you tried either of these "jellys"?

FYI: I bought both of these products with my own cold, hard cash.