When most people think of boho chic style, they think summer music festivals. But I picture crunchy, red leaves on the ground and purple tones. The weather turns cooler and  I suddenly become boho chic for fall. It's weird but there is something about a boho dress with navy tights that just gets me in the mood for pumpkin spice lattes and orange bouquets. But since my boho chic for fall style only sticks around for a few weeks (I live in New England after all), I'm not crazy about spending a whole lot to get the look. That's why I love that The Paper Store has grown their fashion department into a destination for cute but affordable looks. I can literally get an entire outfit for under $100….AND afford a box of Sugarfina's Champagne Bears as a special treat!
Seriously, if you're looking for a way to incorporate some boho chic for fall into your life, The Paper Store is the place to do it. How CUTE is this flowy, floral dress I found?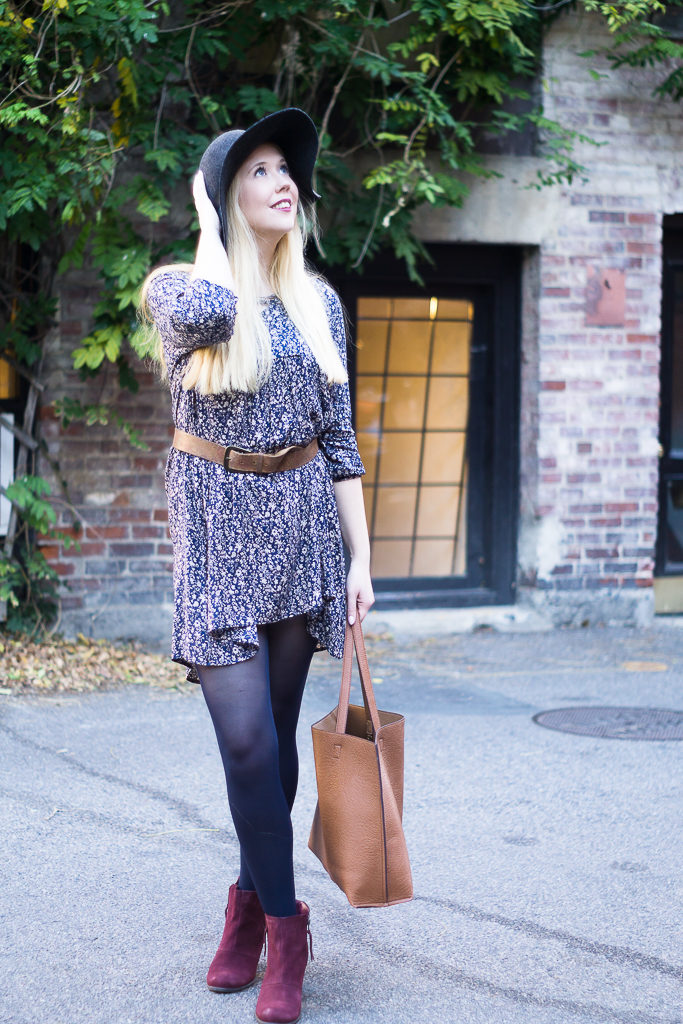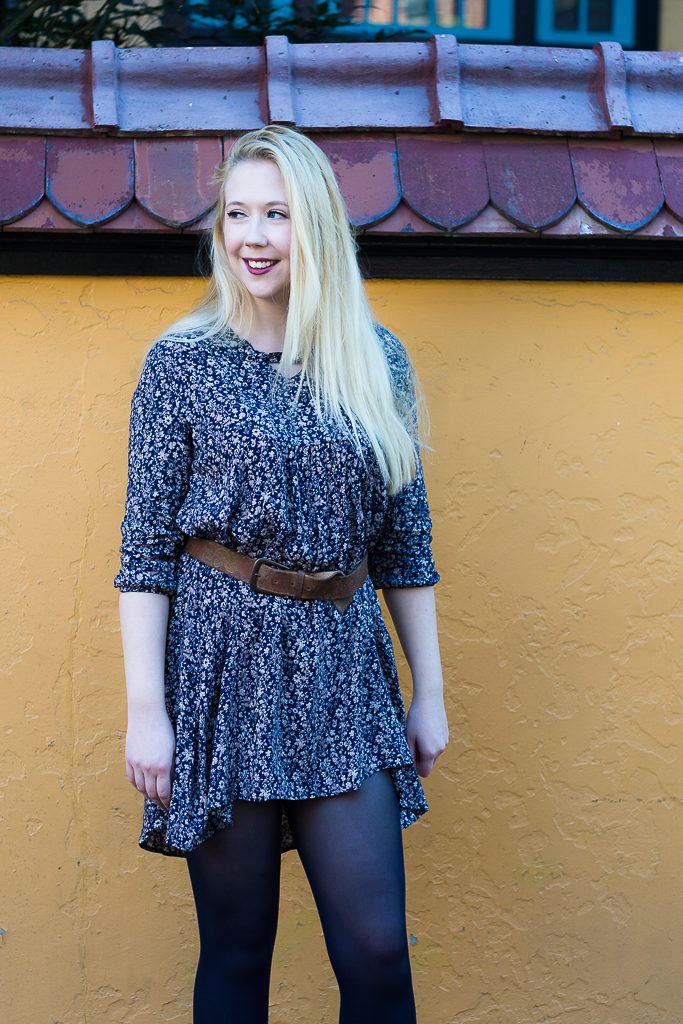 Boho chic for fall is super easy to do and flattering on everyone. Just find a patterned tunic-style dress (I'm wearing one by Mia + Tess that's $39.99 at The Paper Store. Plus, right now you can get 30% off one piece of fall clothing) and navy tights. Okay, depending on the dress you might want black or even grey but I have a feeling we'll be seeing navy tights (mine are from Hue) EVERYWHERE this fall and into the winter so invest in a pair or two!
A brown belt around the waist adds some shape (although it did make the front of my dress just a teeny bit shorter so you may want to size up) and a pair of burgundy booties (similar here) completes the boho chic for fall outfit.
Oh, and a deep plum lip is always a good idea to pull the whole thing together. I use MAC's Prep + Prime lip primer, their Nightingale lip liner, and some lip balm to get my plum pout!
You can find a similar floppy hat (also by H&M) here and my bag is available at Nordstrom.
Thank you to The Paper Store for gifting me the dress!