Is there anything more fun than a night at a hotel? When the Element Boston invited me to spend a few days in the Seaport with them, I jumped at the chance! Plus, it's a perfect excuse for my BFF, Renata, to drive up from Philidelphia to keep me company! Owned by Westin, the Element Boston Seaport is on D Street (next to their sister hotel Aloft) just across from the convention center. It's a great spot for a business hotel, but with a pool,  a great outdoor space, oversized rooms with easy access to downtown, and complimentary breakfast every morning, the Element Boston is also perfect for families and tourists.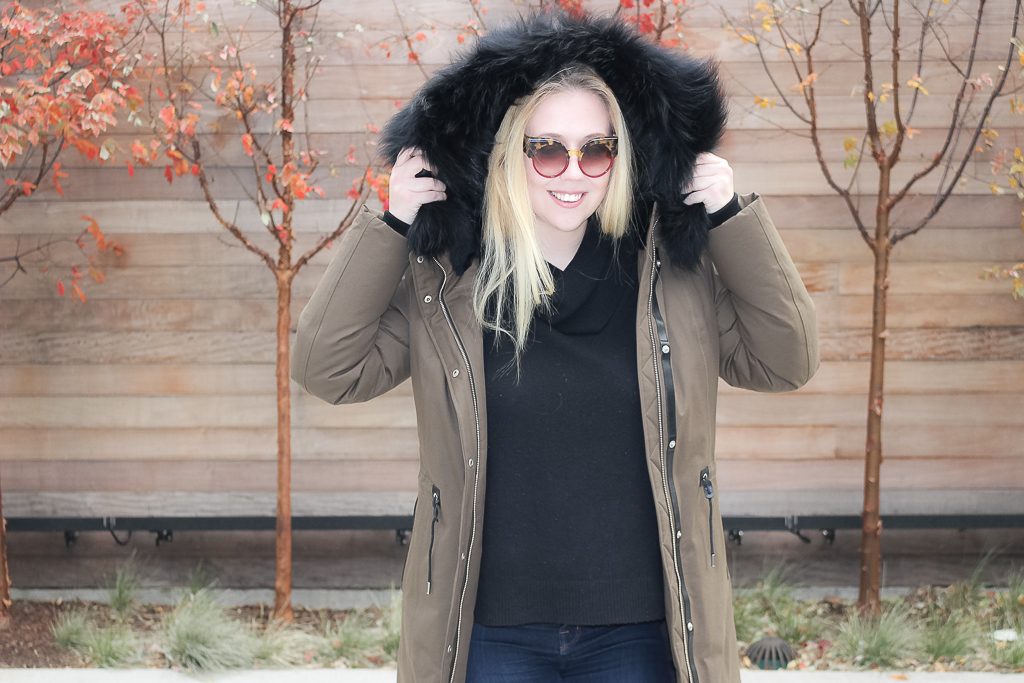 What I'm Wearing: Mackage Enia Down Coat c/o Luxe Leisure // Cupcakes + Cashmere Montana Cashmere Sweater // J Brand Maria High Rise Jeans // Stuart Weitzman 50/50 Over The Knee Boots // Jacques Marie Mage Thelma Sunglasses c/o Lunette Optic (Other Colors Available Here)
Element Boston is perfectly located, just on the edge of the excitement of the ever-expanding Seaport neighborhood and a quick bike or Uber ride over the bridge into downtown Boston.  Plus, every room is equipped with a large kitchenette. I'm talking a full sized, stainless steel fridge, tons of cabinet and storage space, dishwasher, and a stove top. The kitchen in our studio is honestly nicer than the kitchen in my two bedroom apartment.
It's such a useable space, fully stocked with pots and pans and dishes, that we decided to stay in and cook dinner at Element Boston! Whole Foods Ink Block is a simple, five-minute drive away so we took advantage and went on a little shopping spree.